Benjamin Netanyahu defends his record and says that he has proven he cares about the future of Israel; he also says he wants to advance a regional initiative, which includes reaching an agreement with the Palestinians.
Prime Minister Benjamin Netanyahu addressed criticism of his handling of former defense minister Moshe Ya'alon's resignation Sunday. He said, "I hear these voices in the media, the self-flagellating voices, the fear-mongering. I suggest they quit their crying and moaning." Netanyahu made these statements during a press conference with the Czech Prime Minister, Bohuslav Sobotka.
Netanyahu added, "I am concerned about the future of the state, and I proved that as prime minister. In politics, people say all sorts of things, but I, on the other hand, keep my words to a minimum. I never make personal attacks, and many others immediately regret what they say. I do not deal with words; I deal with actions."
"I, who fought as an officer and a soldier in Sayeret Matkal, who was in battle and was injured, I care about Israel's security and at the end of the day, I lead the battles." Netanyahu stated further, "The prime minister navigates all the operations with the defense minister and IDF chief of staff. It seems I haven't done a bad job during my years as prime minister, and so it will continue now, responsible, determined, intelligent policies aimed at upholding security, advancing the peace process and regional initiatives."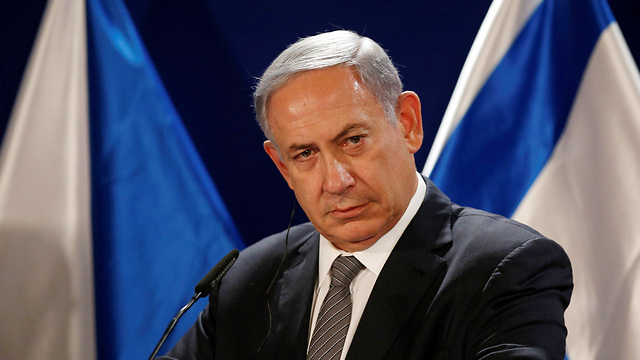 Netanyahu added that Israel is a wonderful success story. He said, "I am proud of Israel. I am proud of Israel's citizens. I am proud of the IDF. I am proud of the IDF's commanders and soldiers. They guard, and we work night and day to preserve the security of our children. The security and future of our children is in one place—here, in the land of Israel, not any other country."
Netanyahu also discussed negotiations to expand the government. "When I formed the government, I said that I plan to expand it. I made a proposal to the Zionist Union and up until this moment, they have not yet responded. I also made a proposal to Avigdor Lieberman, and he did respond, but the policies (of the government) are the same policies. Its policy is to work hard for a peace agreement with the Palestinians, an agreement that preserves (our) security, but allows allows us to avoid one state from the sea to the river. That is my position. I said that before, and I say now that I think that is the right thing. I intend to continue with this policy.
"The initiatives that I am talking about are the regional initiatives. That means working with Arab states to reach a real agreement with the Palestinians. We always thought the opposite would work, but, to a great extent, this is today's approach. I have been trying tirelessly to advance contacts with different regional leaders. We have many shared regional interests with Arab states, and I think that one of those interests is to advance a real peace process between us and the Palestinians and possibly with their help, we can overcome a few obstacles. This is what I am working on now."
Netanyahu and his envoy, Yitzhak Molcho, met with Tony Blair, who mediated between Netanyahu and Egyptian President Abdel Fattah al-Sisi in an effort to promote regional initiatives. The prime minister told him that he is committed to promoting the initiative.
Ya'alon addressed the heads of the IDF, saying, "Remember: An army must win, but it must remain human. Even after a battle or an operation or a war, we must keep our values and retain our humanity. I trust you to continue to lead and to triumph."
He added, "Here sits the shield of defense, and I want to express my thanks and great appreciation to all of you. Personally, and on behalf of the entire nation of Israel. You bring about a security situation that allows Israel to thrive. This board can boast achievements in bringing Israel relative security stability. This is because the group sitting here is level-headed and responsible, headed by the chief of the general staff who uses force wisely. The threats have not ceased, so this board will not be unemployed in the coming years."
That afternoon, Ya'alon had a farewell conversation with Chief of the General Staff Lt. Gen. Gadi Eisenkot. Ya'alon tweeted, "Thank you for the cooperation. It was an honor to work with you, with the generals of the General Staff and the rest of the commanders."
As reported by Ynetnews