Popular children's book author Yanetz Levi's series, 'Adventures of Uncle Arie' sells more than 50,000 copies in China; Levi arrives in China for a round of lectures to meet his Chinese fans; Foreign Ministry says, 'Embassy will continue to bring Israeli artists to increase the Chinese public's exposure to Israel.'
Almost every Israeli parent and child knows Yanetz Levi's series of children's books, "Adventures of Uncle Arie". More than 700,000 copies of the series have been sold in Israel and now they are flying off the shelves in Chinese bookstores.
Levi has turned into a superstar in China, and Tuesday he arrived for a round of lectures with the help of the Foreign Ministry and Israeli embassy in Beijing. Even before he arrived, more than 50,000 books were sold and since his arrival, the publisher reported that tens of thousands of additional books have been sold. The series has been translated into many other languages and garnered success in Czechia, South Korea, India, and Japan. The book has also been translated into Arabic and has been sold the most, with the exception of Israel, in China.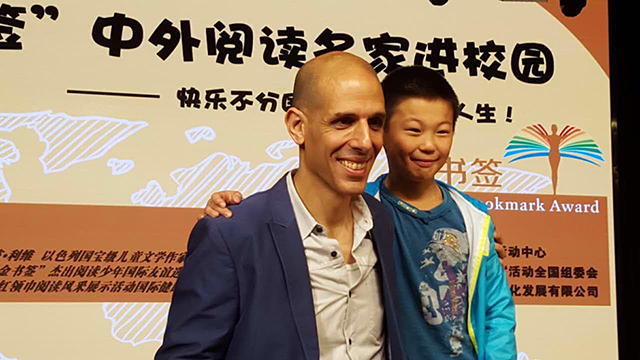 Yesterday he met with the "Young Pioneers", a Chinese youth movement whose children revere his books. In a number of schools, he was received by thousands of children who enthusiastically received him as if he were a rock star. At his first event, hundreds of children yelled to him, "Lioooshushu." When he asked the translator what that means, the translator said that is how one says "Uncle Arie" in Chinese. While visiting a number of Chinese cities, Levi delivered lectures and answered trivia about his books.
"I am always surprised by success, and I do not take it for granted," said Levin in a phone call. "The meetings with the Chinese children and parents who are excited about Uncle Arie are very touching. For example, I was just told that in one school 5,000 copies were purchased. The discovery that children around the world, despite cultural and geographic differences, are excited about the same books—is magical."
The hero of the series, "Adventures of Uncle Arie", is an uncle, who tells his three nephews about imaginary adventures in fictitious places. And it has become clear that Chinese and Israeli children have similar perceptions of the imaginary places.
The Israeli embassy in China said, "Israeli culture and its diversity are very popular in China. In addition, culture is an important instrument for deepening relations between the Israeli and Chinese peoples. Bringing Yanetz Levi is an excellent example of the unique connection between the two cultures. The embassy will continue to bring different Israeli artists to increase the Chinese public's exposure (to Israel)."
As reported by Ynetnews