Four years ago, Israel Antiquities Authorities Antiquities Robbery Prevention Unit found two sarcophagus lids being smuggled through the Old City of Jerusalem to Europe. They will be returned to Egypt on Sunday in an effort to warm relations.
In an attempt to improve relations between Jerusalem and Cairo, Israel will return Egyptian antiquities that were brought into the country by antiquities looters for the first time on Sunday.
This development follows Egyptian President Abdel Fattah al-Sisi's call on Israelis to not give up on the opportunity for peace on Tuesday.
The items to be returned are two ancient sarcophagus lids. They were seized four years ago by inspectors from the Antiquities Robbery Prevention Unit during an inspection in market shops in Jerusalem's Old City. The lids are made of wood and covered with a layer of plaster. They are ornately decorated with paintings and hieroglyphics.
The lids were seized on suspicion of being stolen property. After expert verification that included carbon-14 dating to determine the age of the wood, the items were found unequivocally to be authentic.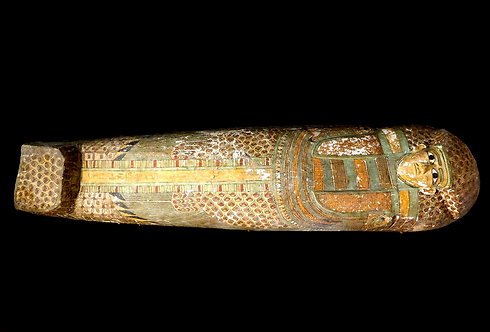 One lid dates from between the 8th and 10th centuries BCE (the Iron Age), and the second is dated from between the 14th and 16th centuries BCE (the Late Bronze Age)
Because of the artifacts' rarity and organic components, they have been kept and preserved at the Israel Antiquities Authority's Jerusalem laboratories in climate-controlled storage. Wood sarcophagi of this type had previously only been found in Egypt and were preserved thanks to the region's dry desert climate.
It is suspected that Egyptian antiquities robbers looted ancient tombs in the Western Desert in Egypt, and afterwards the vandals smuggled the lids from Egypt to Dubai.
From there, they found their way to Israel en route to a different country in Europe.
After locating the ancient sarcophagi, the Egyptian authorities submitted an official request to Israel to return the stolen lids.
With relations between the two countries improving, Israel has decided to grant the request, and the rare sarcophagus lids will be handed over on Sunday to the new Egyptian ambassador, Hazem Khairat, in a ceremony at the Ministry of Foreign Affairs in Jerusalem to be attended by representatives of the Israel Antiquities Authorities and senior officials from the Israeli Foreign Ministry.
As reported by Ynetnews