The Palestinian Foreign Ministry has released a statement claiming that Lieberman's joining the coaltion shows that 'Israel prefers extremism;' other Arab media similarly critical of potential far-right coalition
The Palestinian Authority on Thursday slammed Prime Minister Benjamin Netanyahu's decision to bring Avigdor Lieberman's Yisrael Beytenu party into the government, saying this was "further proof that there is no true partner for peace in Israel."
A statement from the PA Foreign Ministry said that the decision to appoint Lieberman as the defense minister has led the Palestinian people to the conclusion they have no other choice but to continue their international campaign for recognition.
"This decision is Netanyahu's answer to the French initiative and to international and regional efforts to advance the peace process between our two sides," the PA Foreign Ministry in Ramallah said.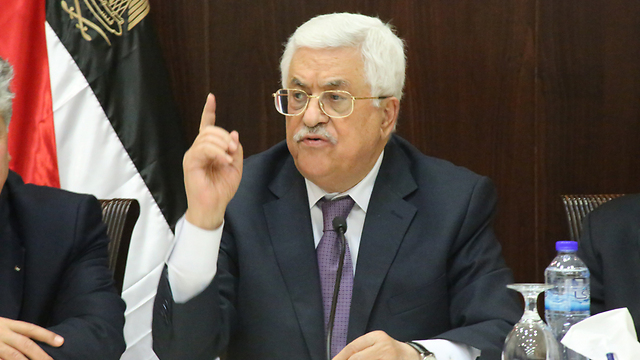 "Netanyahu is sending a very clear message to the world that Israel prefers extremism and expanding the occupation and the settlements over peace," the statement continued.
The Palestinian Foreign Ministry demanded that the international community "bear political, moral and legal responsibility towards the Palestinian people and their rights. The adherence of Yisrael Beytenu, headed by the extremist Lieberman, to the Netanyahu government and its receiving the defense portfolio was welcomed and supported by settlers and extremists in the Israeli streets."
According to the ministry, this dramatic development is not surprising "to those who follow day to day the steps of the extremist Netanyahu government and its various apparatuses against the Palestinian people. The adherence of Lieberman, known for his right-wring and extremist views against the Palestinians is new proof that Netanyahu prefers to render his government more fundamentalist, to make it, as the Israeli press has dubbed it, the most right-wing government in Israel's history."
The Arab press has been following the unfolding story in Israel, but it has relied mainly on reports from the Israeli media. In reports, Lieberman is presented as a character threatening Arab states, especially compared to Ya'alon. Lebanese newspaper As-Safir, which has ties with Hezbollah, printed the headline, "A Netanyahu and Lieberman partnership—a more fascist regime."
Egypt also followed the recent Israeli political drama via Israeli media. The Egyptians of course recall Lieberman's statements about bombing the Aswan Dam if Egypt sent forces into Sinai. Egyptian sources have indicated their frustration.
As reported by Ynetnews