The ugly, multibillion-dollar general election campaign is here.
The clash between Donald Trump and the forces supporting Hillary Clinton played out on Twitter and social media Tuesday, underscoring a certainty about the fall campaign — nothing will be off limits.
In this case, it was Priorities USA Action, the well-funded super PAC supporting Clinton, which served as instigator to Trump's stream of insults for the former first couple.
Seizing on Trump's low favorability ratings among women, Priorities unveiled a pair of ads aiming to use Trump's derogatory comments about women against him. The $6 million ad buy in four swing states does not launch until Wednesday, but the provocative spots spread quickly across social media during a week when Trump has continually been on the defensive about his past conduct toward women.
In one ad that seemed to especially pique Trump, Priorities directed women on camera to mouth words used by Trump in past interviews and audio recordings — sizing up women's figures in crude terms, using expletives, and suggesting that if Ivanka Trump wasn't his daughter, he might date her.
Trump parried back on Twitter that "the pathetic new hit ad" had misrepresented his words, and chided Clinton and former President Bill Clinton for the attacks, not making a distinction between her campaign and the independent super PAC.
"Amazing that Crooked Hillary can do a hit ad on me concerning women when her husband was the WORST abuser of woman in U.S. political history," Trump tweeted, referring to Bill Clinton's past indiscretions.
It was not the first time Trump has launched that kind of attack on Bill Clinton's personal conduct. While many political strategists believed the Clinton scandals of the 1990s would hold little sway with voters — and would be dismissed as old news — Trump has continually tried to steer the conversation back to the former President's conduct at that time.
At one point — without citing any specific proof — he suggested that the former secretary of state had treated the women involved with her husband poorly.
But the Clinton campaign has adopted a consistent tactic that they are expected to use throughout the fall campaign — refusing to engage with what they consider to be Trump's low-level trolling.
Bill Clinton summed up that approach when asked whether he wanted to respond to Trump's taunts while campaigning in Puerto Rico Tuesday.
"No. I think people are smart enough to figure this out without my help," the former President said. Clinton's official campaign has yet to respond to Trump's latest string of tweets; aides said it was unlikely they would.
Clinton has made it clear that she does not intend to engage with Trump when he issues personal attacks – a strategy that many around her, including outside groups, viewed as a call for them to stay above the fray, too.
"I am going to let him run his campaign however he chooses," Clinton told reporters earlier this month in Virginia, adding later, "I have nothing to say about him and how he is running his campaign."
Aides have said that Clinton's role in responding to Trump will be to critique his stances on policy issues and defend people an in speeches, including Muslims and Mexicans.
Clinton's aides are aware that she can't be seen as shying away from a fight with Trump, but want to be sure that fight is on their terms.
Clinton surrogates have been told by campaign aides not to "get into the mud" with Trump – on Twitter or on television.
Bakari Sellers, another surrogate and CNN contributor, said there is "no reason to get down on his level."
"There is no need for Hillary Clinton to respond to a man who gets his news from the National Enquirer," Sellers added. "Donald Trump is beneath her. Period."
Though their new attack ads were pointed, Clinton's big money super PAC, Priorities USA, has also pledged not to get too personal.
"We have said all along that we are not interested in going into his personal life and neither do we need to," said Justin Barasky, spokesman for the group that released their first ads against Trump this week.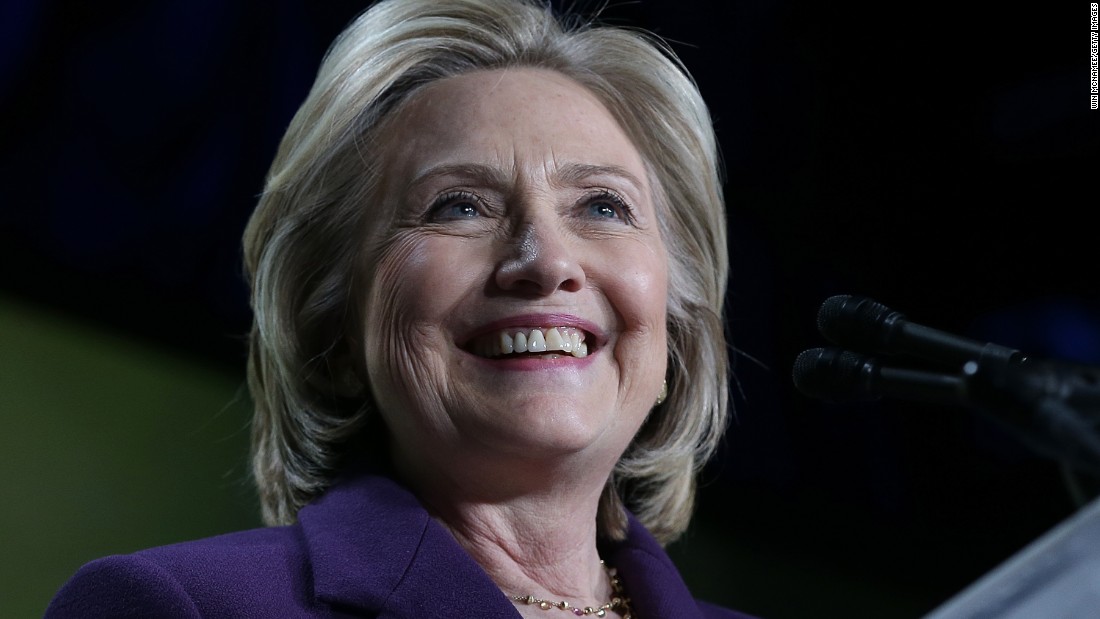 Clinton's campaign hopes to be able to hold this line for the campaign, but aides acknowledge that Trump – who has surrounded himself with agitators like Ed Klein, who has written discredited books about the Clintons, and Roger Stone, a GOP operative known to get negative and personal – could make that difficult.
In a hint of the big-spending campaign to come, Trump and the Republican National Committee announced a joint fundraising agreement that was another sign of the renegade campaign coming together with the Republican establishment. While Trump said repeatedly on the campaign trail that he was self-funding his campaign, the agreement announced with the RNC would allow donors to write checks of up to $449,400 in 11 states. The agreement will also allow Trump to repay himself the money he has loaned to his effort during the primary.
There is an acknowledgment among Democrats that someone will have to meet the Trump campaign where they are on personal attacks and many agree that David Brock, the founder of Media Matters for America and American Bridge 21st Century Super PAC, is the most likely person.
Clinton's campaign, still maintaining some focus on Bernie Sanders and the primary campaign, has yet to begin fundraising in earnest for the general election. But donors who have already maxed out their contributions in primary dollars have told CNN and the campaign that they are prepared to donate once again when Clinton's operation switched from collecting primary dollars to general election money.
Priorities USA has already begun pledging to spend millions of dollars on ads in the general election. So far the pro-Clinton super PAC has reserved $136 million in ad time and some Democrats expect the group to raise upwards of $500 million for the 2016 race.
At the same time, Clinton has tried to show voters she is ready for the fight, making it clear that she is eager to debate Trump. She recently started telling audiences that she feels Americans take their vote seriously and, therefore, will pick the candidate with better ideas, not better insults.
Recognizing the need not just to withstand Trump's attacks — but to seize the spotlight in this election — Clinton is now adding an extra flourish to her Trump attacks.
During a two-day swing through Kentucky, Clinton began mocking the presumptive Republican nominee by taking on his distinctive New York accent and pretending like the two were in a debate together.
"I actually think it matters what you say you are going to do if you are running for president. Maybe he will get around to it, maybe he won't," Clinton said Monday in Kentucky. "But I am voting for placing my trust in the American people who are able to figure out who actually has your back when it comes to the economy."
As reported by CNN