Hundreds of thousands of people have been forced from their homes by floodwaters and landslides after a major storm hammered Sri Lanka.
At least 37 people have died and 21 are missing after three days of incessant rains that came just a couple weeks before the monsoon season.
Emergency workers have been rescuing people trapped in their homes by rising waters. Fields and streets are submerged throughout the country.
The Colombo-based Disaster Management Center says 223,687 people have been affected by the floods and landslides.
Some 200,000 people are currently being housed in hundreds of welfare centers across the country.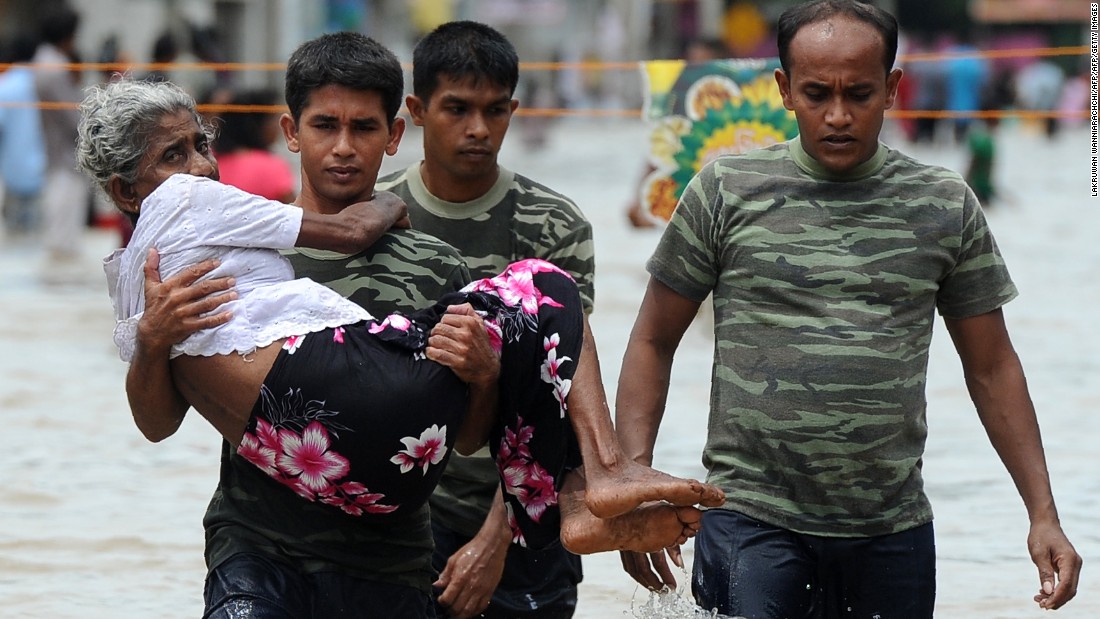 Deadly landslides
The northern town of Kilinochchi was struck by 372 millimeters (nearly 15 inches) of rain in just 24 hours — a quarter of the area's typical annual rainfall.
The downpour caused flash flooding and destructive landslides across the country. Thirteen bodies were recovered by rescue teams in Aranayake, Kegalle District, after a massive landslide hit a number of villages in the area.
According to the Red Cross, 200 families were initially buried by the debris but rescue teams had managed to reach over 180 people.
A second landslide in Bulathkohupitiya killed three, a military spokesperson said, but he added that local villagers said up to 100 people could still be caught in the mud.
Workers in areas prone to landslides in the tea-producing district of Nuwara Eliya were evacuated to safe zones.
More rains ahead
The rains have come ahead of the regular monsoonal downpour expected later next month and are the result of a depression in the Bay of Bengal, according to weather forecasters.
The rain is now expected to move toward Tamil Nadu in India's south.
As reported by CNN