The leader of the opposition called a press conference on Wed. night to explain how joining the gov't fell apart and to harshly criticize Shelly Yachimovich.
Leader of the Opposition Isaac Herzog spoke at his second press conference of the day on Wednesday night at the Tel Aviv headquarters of the Labor Party in which he explained how talks for his party joining the government collapsed and harshly criticized MK Shelly Shelly Yachimovich.
"I informed Netanyahu of the end negotiations last night," Herzog announced.
According to him, Netanyahu had agreed to a veto on building in the settlements, a new agreement on the gas deal, and that Herzog's Zionist Union would manage foreign policy.
He further detailed: "An immediate opening of political negotiations, the establishment of a regional peace council, the foreign affairs portfolio, the economy portfolio and seven other portfolios, five deputy minister positions, four committee head positions, including that of the Foreign Affairs and Defense Committee, and the transfer of the defense portfolio to the Zionist Union within a year."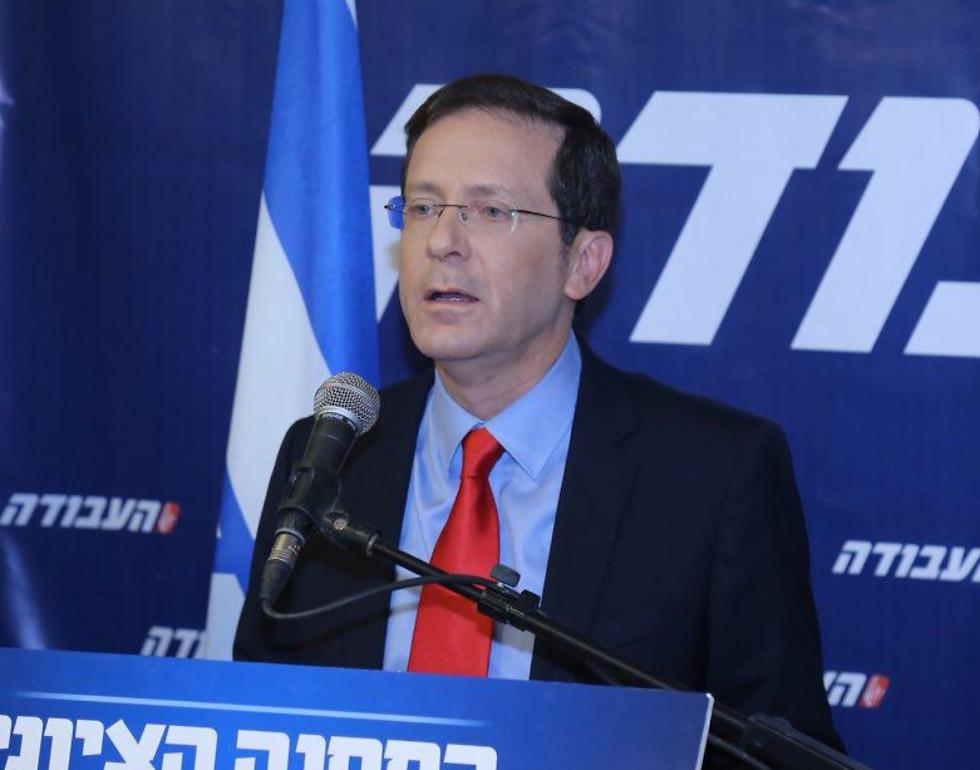 Herzog explained, "Netanyahu demanded that this remain an oral commitment. I don't believe in oral commitments regarding important matters."
Herzog then attacked MK Shelly Yachimovich: "My predecessor is leading a rude campaign, the person who begged to be in Netanyahu's government in the past. Ironically, she led the Labor party without much success, and she has not learned her lesson.
"She will be the stamp with which Lieberman will be appointed minister of defense, and she is responsible for the consequences of his appointment. The Galon/Yachimovich alliance is what is distancing the voters (from us)."
"We are a center-left party and not an extremist left (party). The same people preaching day and night to speak with the Palestinian Authority and Hamas are working to prevent testing a real opportunity."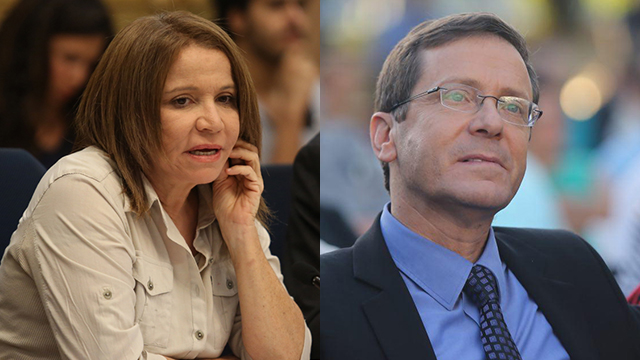 After Herzog's speech, Yachimovich said, "Herzog lied when he enumerated a fictitious list of agreements that never existed or happened, and in any case Netanyahu never agreed to to put it in writing. He lied when he talked about 'begging for a ministerial portfolio'. From the beginning, the most senior portfolio was offered to me so that I would support the process. I rejected that and as I understood that we were talking about an embarassing and unconditional crawl into the government, I would not have agreeed to empty deals that Netanyahu offered."
She continued, "We have witnessed a miserable, depressing and unfortunate demonstration of lack of leadership and zero taking of responsibility from somebody who laid out the red carpet for Lieberman and granted total legitimacy to a right-wing government that he was ready to enter at any price."
She explained, "I tried together with my colleagues…to prevent him from crawling unconditionally into the government, and we didn't manage to do this. Going to a public fight was the only option."
Herzog called the press conference after Avigdor Lieberman accepted Prime Minister Benjamin Netanyahu's offer to take the position of defense minister.
As reported by Ynetnews