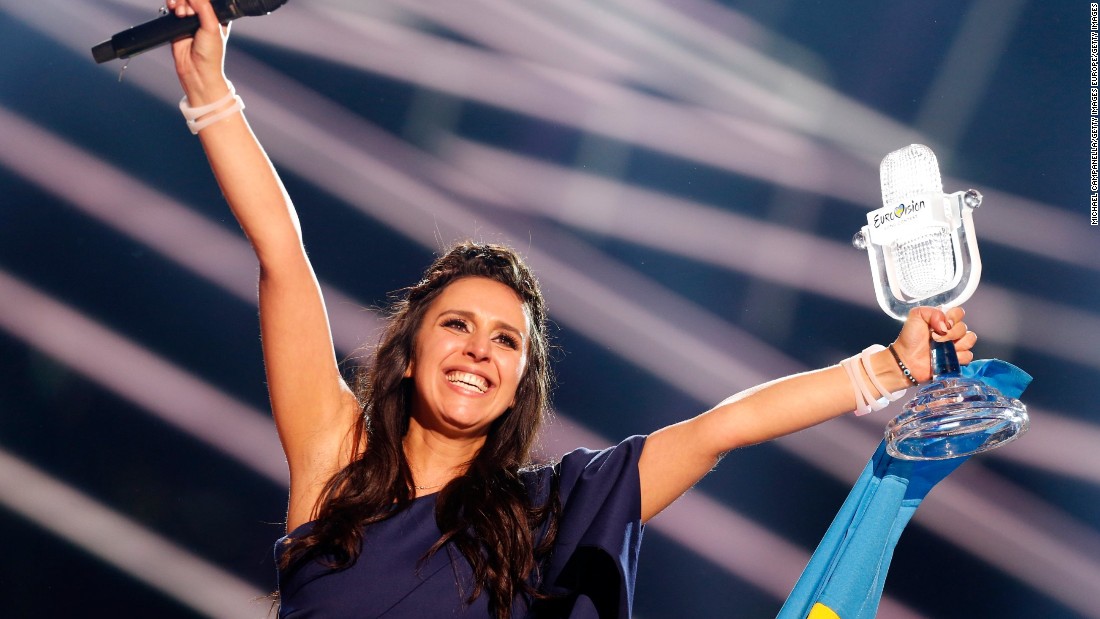 Jamala of Ukraine on Sunday won the immensely popular Eurovision Song Contest with a somber, controversial tune that evokes Moscow's deportation of members of her Crimean ethnic group during World War II.
She sang "1944," a song about the deportation of Crimean Tatars by the Soviet Union on orders of Josef Stalin. Her performance also was considered a strong rebuke to Russian President Vladimir Putin's 2014 military push into Ukraine, according to European media reports. Russia annexed Crimea.
Russian state media this week called the song anti-Russian; Moscow said it violated Eurovision rules.
Contest officials ruled the song didn't breach rules preventing "lyrics, speeches or gestures of a political or similar nature."
Jamala, whose full name is Susana Jamaladynova, told Ukraine Today in February that she wrote the song because she was inspired by a story her great-grandmother told her about the deportation of her family and others in Crimea.
"I would prefer that all these terrible things did not happen to my great-grandmother, and I would even prefer if this song did not exist," the tearful competitor told reporters after the competition.
Stalin accused the Tatars of collaborating with the Germans during World War II, according to Encyclopedia Brittanica.
Jamala said that the composition is about all people who are victims of past tragedies. She prepared for the contest by listening to the soundtrack from the Holocaust movie "Schindler's List." Jamala said she hopes her song will have the same power as the movie's music.
The song's lyrics begin:
When strangers are coming /
They come to your house /
They kill you all /
and say, We're not guilty, not guilty /
Where is your mind? /
Humanity cries /
You think you are gods /
But everyone dies /
Don't swallow my soul /
There is no specific mention of Russia or its rulers.
Jamala told the UK's Guardian newspaper this week in a phone interview that she had not been home since Moscow's intervention.
"Of course, it's about 2014 as well," she told the newspaper. "These two years have added so much sadness to my life."
"I really want peace and love to everyone," Jamala said as she accepted the winner's trophy. Later, at the news conference, she said: "I was sure that if you sing, if you talk about truth, it can really touch people. And I was right."
Eurovision is the longest-running international TV song contest. It was held this year in Stockholm, Sweden.
Australia's Dami Im won the most points (320) from the jury panels of professionals in 42 countries participating in the voting, but didn't get enough points from the viewer call-in votes and finished second.
Russia's Sergey Lazarev finished third.
Next year's contest will be held in Ukraine, thanks to Jamala's victory.
As reported by CNN