The Israel Prize, the State of Israel's highest honor, was given to 11 citizens for excellence in their fields. The ceremony was held in Jerusalem and was attended by many high ranking gov't officials
Israel's 68th Independence Day ended on Thursday night in Jerusalem with the annual awarding of the Israel Prize to 11 pioneers in their fields.
Present at the ceremony were President Reuven Rivlin, Prime Minister Benjamin Netanyahu, Supreme Court President Justice Miriam Naor, Minister of Education Naftali Bennett and Speaker of the Knesset Yuli Edelstein.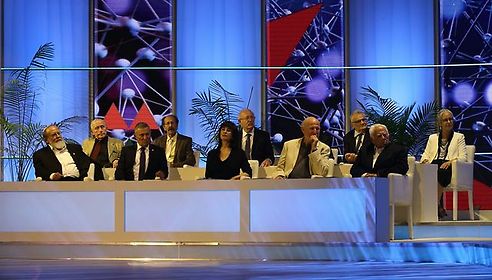 Maj. Gen. (res.) Doron Almog and Rabbi Eli Sadan received the lifetime achievement prize; Prof. Meir Lahav and Prof. Leslie Leiserowitz received the prize for chemistry and physics; Prof. Eviatar Nevo received the prize for life sciences research; Prof. Edit Doron received the prize for linguistics; Prof. David Dean Shulman received the prize for religious studies and philosophy; Prof. Yohanan Friedmann received the prize for Near Eastern studies; Prof. Yossi Katz received the prize for geography, archaeology, and Land of Israel studies; musician and composer Nurit Hirsh received the prize for Hebrew songs and folk art; and Hadas Ophrat received the prize for performing arts: theater and dance.
When Almog recieved his prize, the audience rose to its feet to applaud the founder of a rehabilitation village for mentally disabled children, named after his disabled son, Eran, who died in 2007.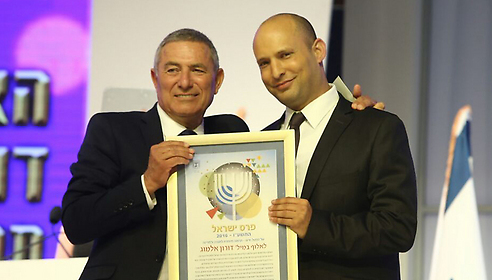 "Eran, our son, did not know what independence was," said Almog in his speech as the representative of the prize recipients. "Eran never spoke, never called my wife 'Mom' or me 'Dad.' Regardless, he was the greatest teacher in my life."
He continued, saying "in Eran's name and the name of his friends who didn't know what independence is, I ask that this ceremony be the beginning of a journey for tikkun olam (repairing the world), making Israeli society a more patient, more inclusive society. A small step towards the a model society."
As reported by Ynetnews