Four teenagers who lost their fathers during the Second Lebanon War are brought together to discuss their loss: 'I may not remember his voice, but I remember his touch'
Shai, Ido Doron and Shai, now aged 15 – 16, were all children in the summer of '06, but they were old enough to know that their fathers were going off to war and eventually came to the realization that they would never be coming back. Their fathers were among the 12 reservists who were killed in the Kfar Giladi Disaster, when a Katyusha rocket landed near them, close to the kibbutz's cemetery. Shai, Doron, Ido and Shai still have a few flash memories, but they were all too young to remember their father's embrace or the warmth of his hands as he lifted them into the air.
Doron and Shai Elkarif are siblings, and were the children of the late Maj. Eli Elkarif. Doron was six and Shai four and a half when their father left for good. Shai Aharonov was six when her father, the late Sgt. Gregory Aharonov went to war, as was Ido Ben-David, who is the son of the late First Sgt. Major Daniel Ben-David. Ten years later, they came to visit together the site at which their fathers were snatched from them to talk about both forgetting and remembrance.
"I don't remember anymore what my father looked like without looking at a photo of him," said Aharonov. "I've pretty much forgotten his voice, too."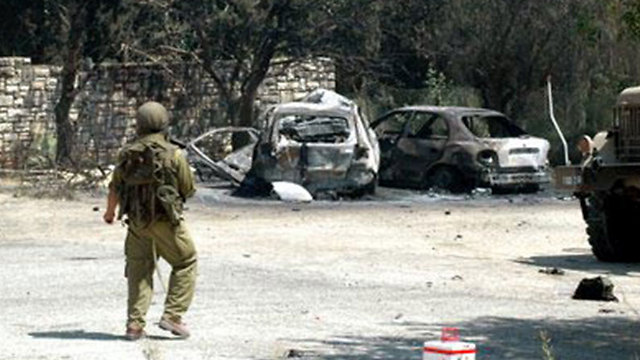 Doron Elkarif shared his own memories. "I may not remember his voice, but I remember his touch, when he would come back from reserve duty, lift me up and hug me."
Ben-David also explained what he does in order to remember father: "People always tell me how much I look like him. I'll always have that, his looks, but I don't remember his voice at all. Whenever I want to remember it, I watch old family movies."
Shai still keeps her father's dog tags, and Ido still has the guitar his father gave him when he was just four. Together, they spoke of anger and a sense of emptiness, but also of acceptance as all have long since adjusted to the reality of growing up with only a mother, who stands at the center of their lives.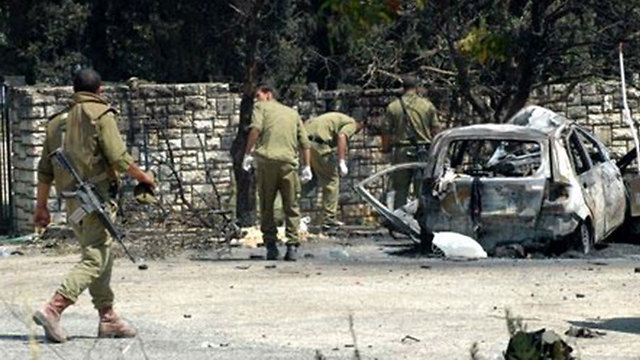 We don't talk about it in my house," said Doron. "We almost never mention him, and when we do, it isn't in a sad kind of way. It's not like we feel as if we've missed out on a lot. It's just the way we grew up. We're used to it."
The casualties of the Second Lebanon War left behind many families with very young children who, a decade later, are now teenagers. Bina Medzini, who runs the Ministry of Defense's Families and Commemoration Department's Haifa District, explained that "The death of a father is one of the greatest tragedies a child can experience. Their father acts as a role model, someone to admire, someone who dispenses a sense of strength, wisdom, love and a sense of companionship with their mother." She went on to say: "The young adults they become then deal with a terrible sense of loss over what they never had the chance to experience."
Medzini added that these days, the main mission of those working in the Families and Commemoration Department is to "offer support to those who need a hug or a shoulder to cry on to those who had their life unexpectedly crushed."
As reported by Ynetnews