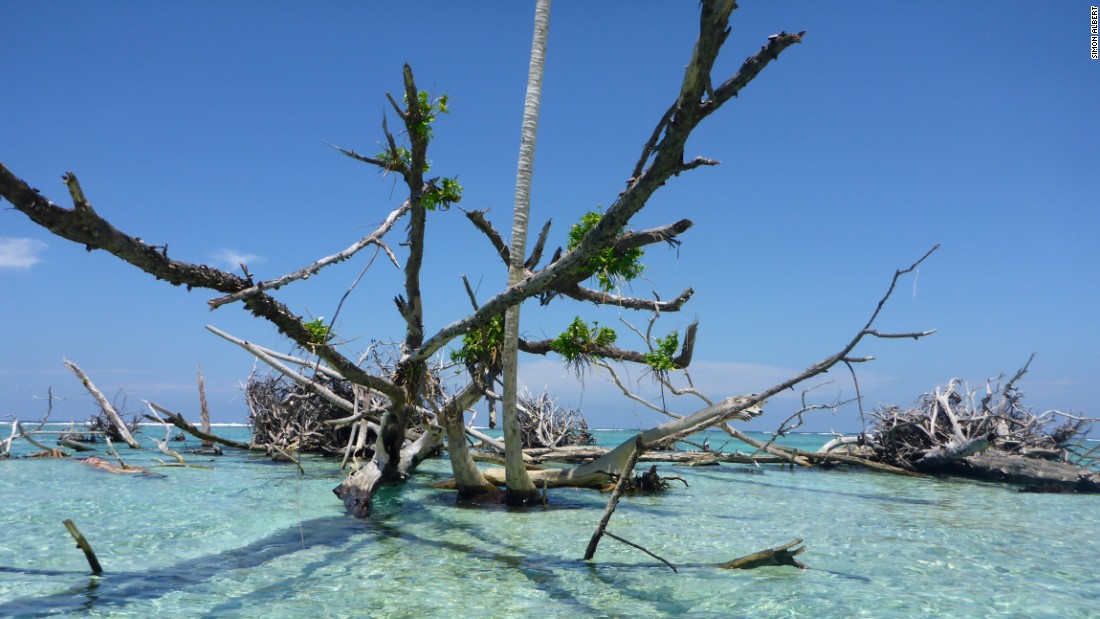 Rising sea levels that submerge entire islands were supposed to be a distant possibility of an apocalyptic future. But in the idyllic Pacific, that future is here.
Five of the Solomon Islands have completely disappeared under water over the past seven decades, one drawing its last breath as recently as 2011, according to a study published in Environmental Research Letters.
Another six islands have lost more than 20% of their surface area, forcing communities to relocate as the shoreline closes in on their homes.
"The human element of this is alarming. Working alongside people on the frontline who have lost their family home — that they've had for four to five generations — it's quite alarming," the study's lead author, Simon Albert of the University of Queensland, told CNN.
The study is the first scientific confirmation of what residents in the Pacific have been saying for years — their islands are disappearing.
The Solomon Islands are a sparsely populated archipelago of more than 900 islands that lie east of Papua New Guinea, and as low-lying islands are particularly vulnerable to sea-level rises.
The study, by a group of Australian scientists, used aerial and satellite imagery of 33 islands between 1947 and 2014 to track changes in land surface areas.
They attributed the changes to general sea level rises driven by climate change, as well as an intensification in trade winds, driven by both a warming of the atmosphere and natural cycles.
In the past 20 years, sea levels in the archipelago have risen 7 to 10 mm (.28 to .39 inches) annually, three times the global average. According to the International Panel for Climate Change, global rises will reach 5mm annually in the second half of the century.
"So the Solomon Islands are like a natural laboratory that gives us a good indication of what we can expect globally. What we are seeing there will become the norm," Albert said.
The five islands that disappeared were not inhabited, although they were significant in size and communities used them for fishing.
The inhabited island of Nuatambu, however, has lost more than 50 percent of its surface area — more than 14,000 square meters — forcing some families to move to a higher volcanic island nearby.
But more worrying for the Solomon Islands is the likely relocation of Taro, a provincial capital, which will involve moving major infrastructure in health, education, sewage and electricity services.
"This kind of relocation will be incredibly complex and likely cost hundreds of millions of dollars, which will make the country more reliant on international help," Albert said.
As reported by CNN