Natan Meir writes strongly worded letter to Ban Ki Moon decrying lack of humanity at the Security Council after being ignored by every UN Security Council representative.
Natan Meir, who lost his wife Dafna Meir in a terror attack at their home in Otniel,  was snubbed by every ambassador at the UN security council after being officially invited by Israeli Ambassador Danny Dannon, where they were present at a UN Security Council meeting dealing with the situation between Israel and the Palestinian Authority.
He then wrote a strongly worded letter to UN Secretary General Ban Ki Moon decrying his treatment by the ambassadors.
According to Meir, "not a single UN representative shook our hands, called, or met with us. Even you, respected Secretary General, sat there and didn't even open your mouth. You didn't approach a man who's face is anguished in pain."
In the letter, Matan wrote that in January "a Palestinian teenager entered our home in the south Mt. Hebron region, and stabbed my wife to death in front of our children. On April 19th I attended, together with my oldest daughter – who single handedly stopped the attacker from killing more of my family – a discussion at the UN Security Council."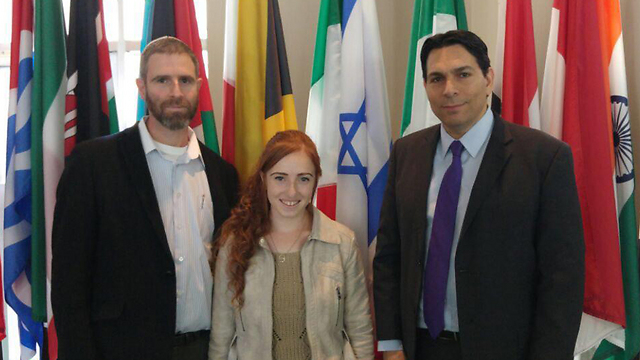 The letter continued, saying "At this meeting, the Palestinian representative complained that hundreds of Palestinian children are in Israeli jails. One of these children murdered my wife. Despite this libelous misrepresentation, no one stopped him from continuing his speech."
"How can the UN stay relevant when there isn't even the smallest drop of humanity in them?" Meir wrote, after both he and his 17 year old daughter were snubbed by every non-Israeli member of the Security council.
"How can someone who can't even look into the eyes of a person have the right to condemn their way of life? Where is the sincerity? Where is the aspiration for humanity which is supposedly the basis of the foundation of the institution of which you are its leader? Can this body succeed in its goal of getting rid of hate, hostility, and inequality?"
While Meir acknowledges that the area in which he lives is controversial, he said "many of my Arab neighbors called me and sent me their condolences, and several even came to my house to speak to me in person. They know and I know that true peace will only come from us, the simple people."
"Help us to promote our mutual co-existence for the sake of the next generations," his letter continued. "If you wish to help, we request of you to help us to build bridges and connect us people to people, and not to put up boundaries or barriers."
Natan's wife Dafna was killed in the doorway to her home in Otniel. The terrorist, Mourad Adias, 16, stabbed Dafna while her daughter watched helplessly her mother fought to keep the terrorist from entering the home, eventually dying of her wounds.
As reported by Ynetnews