Simcha Goldin appeals to government to make release of his son's body condition of receiving humarian deliveries, 'We cannot allow soldiers to be left behind no matter what'.
Simcha Goldin, the father of the late Lt. Hadar Goldin whose body was abducted in Gaza during Operation Protective Edge, called upon the Israeli government on Tuesday to make all aid provided to Gaza be provisional upon the return of Hadar's body and that of Sgt. Oron Shaul, whose body was also abducted during the incursion.
"All humanitarian aid which will ease the suffering of the Gazan civilians and the treatement of all Hamas officials who are sitting in our prisons should be conditional upon our sons being brought to, and buried in, Israel," said Goldin during a monument-unveiling ceremony to mark the memory of Sgt. Dor Chaim Nini, 20, who served in the Givati Brigade.
Nini's parents erected the monument in Moshav Shtulim in remembrance of their son who was killed more than a year ago by a Hezbollah border attack. They were forced to place it in their yard after the moshav refused them permission to do so in public space.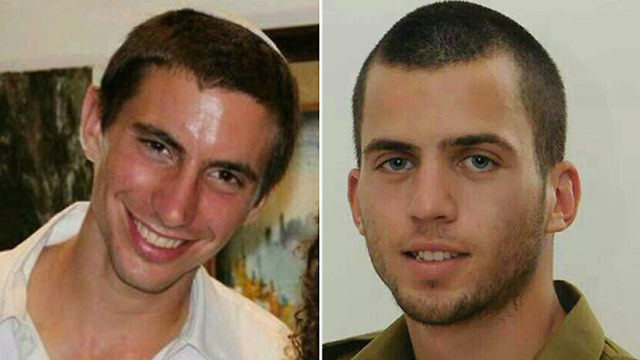 Public Transport Minister Yisrael Katz, MK Amir Peretz, Givati Brigade Commander Col. Yaron Finkelman, former Givati Brigade commander Col. Ofer Vinter and former GOC Southern Command Maj. Gen. Sami Turgeman all participated in the unveiling ceremony.
Simcha Goldin addressed the attendants, stating, "The entire nation of Israel is waiting for the return of the fallen soldiers so that they can be laid to rest in Israel. Today, we consecrate this monument; tomorrow night we will begin Holocaust Remembrance Day to mark the most devastating destruction of the Jewish people in recent generations. The following week, we will remember the fallen soldiers of the IDF before celebrating Independence Day."
"During these ten days, we understand what the Jewish people who came to Israel at the beginning of the 20th century determined, from HaShomer (a Jewish defense organization in Mandatory Palestine) and to today, and this is what created an army that is the army of the people," he said.
The bereaved father added, "We don't have a professional army, we don't have mercenaries, we don't have anyone to do it for us. We do our own work for ourselves and for our freedom. The most important thing which stems from this is mutual dependency and self reliance, a law which does not allow soldiers to be left behind whether they have been captured, injured or have fallen in battle."
In a final appeal to the government, Simcha concluded by proclaiming, "There is an obligation to return every IDF soldier to the land of Israel, to release him or to bury him in national soil. This is the obligation of the public, this is the obligation of the army, and this is the obligation of defense."
As reported by Ynetnews