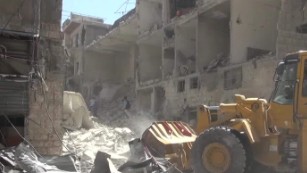 Latakia, Syria – A ceasefire is in effect in one of the most war-torn cities in Syria, the U.S. State Department said Wednesday. The United States and Russia concluded arrangements for a cessation of violence in Aleppo and surrounding areas, according to a department statement.
The two countries ended talks Tuesday and are closely monitoring whether the ceasefire sticks. Violence has decreased but continues, according to State Department deputy spokesman Mark Toner.
"Attacks directed against Syria's civilian population can never be justified, and these must stop immediately," Toner said in a statement Wednesday.
"Our objective remains, and has always been, a single nationwide cessation of hostilities covering all of Syria — not a series of local truces."
Russia's air base in Syria
Russian fighter jets continue to roar off the tarmac at Hmeymim air base in Latakia, the staging ground for Russia's air war in Syria.
Nearly two months after Russian President Vladimir Putin announced he was pulling out "the main part" of his country's forces from Syrian territory, strike aircraft, supported by fighter jets, keep taking off and landing with regularity.
The air base, situated on northwest Syria's Mediterranean coast, remains a potent military concern. While some of the fighter jets have been removed, Russian military officials have upgraded their helicopter fleet at the base, adding Mi-28 helicopters that are on constant patrol.
Maj. Gen. Igor Konashenkov, a spokesman for the Russian Defense Ministry, said that Russian jets have flown 87 sorties striking ISIS in the last four days alone.
The strikes have targeted the terror group's assets in Raqqa and Deir Ezzor provinces, he said.
Russia has said it wants to see the "regime of silence" that has taken hold in Latakia and the capital, Damascus, extended to Aleppo.
But monitoring group the Syrian Observatory for Human Rights said that ongoing clashes in western Aleppo between the Syrian army and rebel factions have been the fiercest in the past year.
Urgent Security Council meeting
The talks between Russia and the United States are part of an international effort to enforce a cessation of violence across Syria. The U.N. Security Council convened an urgent meeting Wednesday on the violence in Aleppo in response to a request from Britain and France.
Matthew Rycroft, the UK ambassador to the United Nations, had strong words for the situation.
"This council has an obligation to the people of Aleppo," he said. "We have an obligation to show that we are working for their protection; that we are trying to find that elusive political settlement that will end this war."
Rycroft said the Syrian people had lost confidence in the international body, and to restore their faith the United Nations needs to stop the carnage.
He welcomed the Russian-U.S. agreement but also called for the Security Council to issue a statement condemning the violence and demanding an end to the violence.
"We cannot choose to do nothing in the face of such barbarity. To do so would be tantamount to collusion with the very forces destroying Aleppo," he said.
Jeffrey Feltman, the under-secretary of political affairs, told the council that the cessation of hostilities needed to be put back on track. He noted the agreement between Russia and the United States.
"We urge parties to abide by this immediately and comprehensively," he said.
He blamed both sides for the violence — the Syrian government for bombing and the opposition for shelling.
His colleague — Stephen O'Brien, the undersecretary for humanitarian affairs — echoed his call for a ceasefire.
"Life for people in Aleppo is horrendous and has lost all sense," O'Brien said.
In Berlin, German Foreign Minister Frank-Walter Steinmeier was scheduled to meet Riad Hijab, chief coordinator of the Syrian opposition's High Negotiations Committee; Staffan de Mistura, the special U.N. envoy to Syria; and French Foreign Minister Jean-Marc Ayrault to discuss the crisis.
France will organize a ministerial meeting on the situation in Syria on Monday, U.N. Ambassador Francois Delattre said in New York.
He said France also is asking Syria's allies to "use all their influence on Damascus in order to end the fighting and in order for the peace process to resume and to resume quickly."
Russia is one of the most important international backers of Syrian President Bashar al-Assad's regime. U.S. officials have called on Moscow to pressure the Syrian President to end his onslaught on Aleppo, which has resulted in widespread deaths of civilians in what was once the country's bustling cultural and economic hub.
Fighting in Aleppo
Dozens have been killed on both sides in the latest surge of violence as rebel groups have shelled government-controlled areas of Aleppo and the Syrian military has responded, the observatory said.
Rocket attacks targeting government-held areas in Aleppo killed at least 17 people Monday, state media reported.
Fatalities included people at al-Dhabit hospital, state media and the Syrian Observatory for Human Rights reported, blaming Islamist groups for the shelling.
'No justification'
The attacks came days after an airstrike hit a hospital in a rebel-held area of Aleppo, reportedly killing the city's last pediatrician. The death toll from last week's attack has risen to 55, according to Doctors Without Borders.
"The bottom line is there is no justification for this horrific violence that targets civilians or medical facilities or first responders no matter who it is, whether it's a member of the opposition retaliating or the regime in its brutality against the civilians which has continued for five years," U.S. Secretary of State John Kerry said.
Elsewhere, jets conducted at least 22 airstrikes Wednesday in Eastern Ghouta near Damascus, ending a truce in the area the military had announced Friday, according to the observatory.
U.S., Russian monitoring ramps up
American and Russian military members are working to improve coordination at a monitoring center in Geneva, Switzerland, to check on the cessation of hostilities in Syria, officials said.
Russian Foreign Minister Sergey Lavrov said Tuesday in a joint news conference with de Mistura that Russian and U.S. officials would be "looking at the same maps" in the monitoring center.
"They will be analyzing proposals, and they will work together to make sure that any violations are nipped in the bud. Probably this is a major step forward toward a more intensive coordination of the efforts by Russia and the U.S.," he said.
As reported by CNN