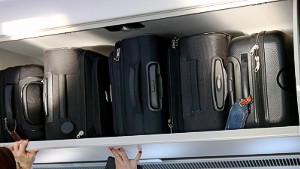 Hong Kong – It's a lesson in not letting your guard down — even if the thief isn't going to run off anytime soon.
A man flying to Hong Kong earlier this week claimed he lost goods worth around $26,000, after two watches and foreign currency were stolen from the luggage he had stored in the plane's carry-on bin.
The man, identified by local media as a Turkish merchant, was flying from Turkey to Hong Kong on an Emirates flight.
Upon arrival on Monday morning, the 39-year-old man reported the incident to airline staff, who called the Hong Kong police.
There have been a rising number of mid-air thefts reported in recent years, according to Hong Kong authorities.
Government figures show at least 60 cases were reported last year, up from 48 in 2014.
Last year, Hong Kong's Secretary for Security Lai Tung-Kwok said police had been receiving more reports of thefts on medium and long-haul flights.
Travelers were advised to "properly keep their valuable property and must not place any cash or valuable property inside the luggage cabin of the aircraft."
As reported by CNN