Protesters who stormed Baghdad's Green Zone retreated Sunday but organizers say the challenge to Iraq's leadership isn't over yet.
Hundreds, if not thousands, of followers of Shiite cleric Muqtada al-Sadr broke into Parliament on Saturday, waving Iraqi flags, ransacking rooms and sitting at lawmakers' desk while gesturing at cameras that captured the scene.
"The cowards ran away," they chanted, referring to Parliament members who had gathered there earlier. Prime Minister Haider al-Abadi had been scheduled to announce a new Cabinet on Saturday but didn't because of lack of a quorum.
Sunday, Abadi urged authorities to find and prosecute anyone who attacked security forces, members of Parliament and citizens or who destroyed public property, state-run Al-Iraqiya TV reported.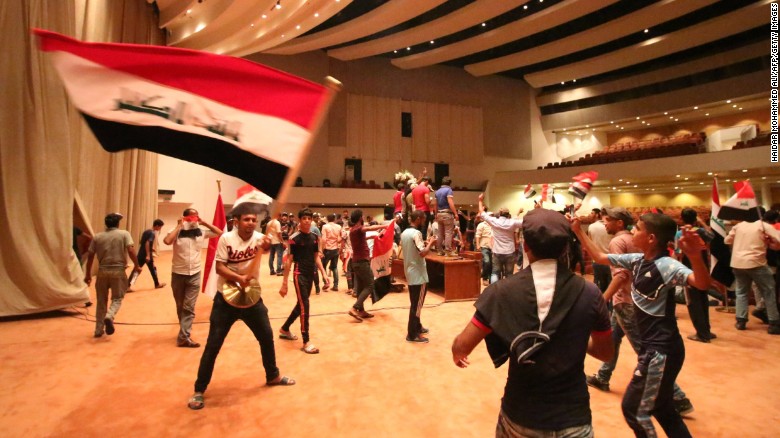 What they want
The crowd was inflamed Saturday by a rousing speech by Sadr who denounced Iraq's leaders as corrupt and called for a "major popular revolution."
The cleric said he stood with the people, boycotting all politicians except "those who seek reform with full transparency."
"I stand waiting for the major popular uprising and the major popular revolution to stop corruptors," he said.
Sadr vehemently opposed the United States occupation of Iraq and in the mid-2000s urged his Mehdi Army militia to attack American troops. His fighters were responsible for some of the deadliest days of the war. But Shiite leaders turned against him and in 2007 he fled to Iran. He returned to Iraq in 2011 and wields significant influence in the country.
Sunday, Sadr's office issued a statement calling for protesters to retreat out of respect for 8th-century imam Moussa al-Kadhim. Over the coming days, thousands of Shiite pilgrims are expected to travel on foot to a shrine commemorating the anniversary of his death.
The statement said the protest would resume Friday, when protesters will demand the dismissal of the President, Prime Minister and speaker. If that fails, they'll call for early elections, and failing that, will conduct "a civil disobedience or general strike," the statement said.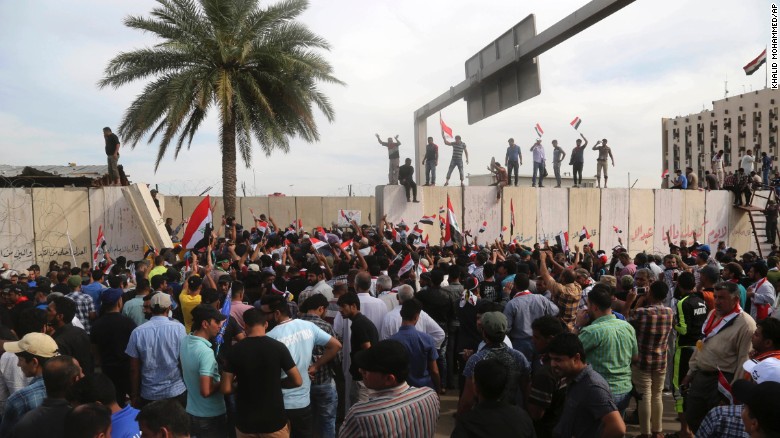 Suicide attacks
Meanwhile, a pair of suicide bombings in Samawa, southern Iraq, on Sunday killed at least 11 people and wounded 13 others, including children, Al-Iraqiya said.
ISIS released a statement on Twitter claiming responsibility for the attack in Samawa, about 155 miles (250 km) south of Baghdad.
In the statement, the terrorist group said an assailant "blew up his car in the middle of a gathering of the Shiite Ministry of Interior Special Forces (al-Maghaweer forces). He killed and wounded a number of them."
When Shiite security forces arrived at the bomb site, a second attacker "blew up his car and killed more people," ISIS said.
Iraq in political crisis
Iraq has been mired in a political crisis that has made it difficult to battle ISIS.
Secretary of State John Kerry recently traveled to Iraq to underscore the United States' support of the Iraqi government and to urge cohesion among its leaders. The United States continues to hit ISIS by air in Iraq.
April 30, coalition military forces conducted 26 strikes against the terrorist group in coordination with the Iraqi government, the U.S. military said.
Last Thursday Vice President Joe Biden arrived in Iraq for an unannounced visit intended to push for greater stability in Iraq.
Weeks earlier, Biden spoke with Abadi and Iraqi Kurdistan Region President Masoud Barzani about remaining focused on battling ISIS.
April proved a deadly month in Iraq. At least 741 Iraqis were killed and another 1,374 were hurt in acts of terrorism, violence and armed conflict in Iraq during the month, according to casualty figures recorded by the United Nations Assistance Mission for Iraq.
As reported by CNN