Der Spiegel reports senior officials in the German government believe Netanyahu is 'instrumentalizing' Berlin's friendship, while the magazine quotes Merkel as saying she understands 'why President Abbas continually seeks out the Security Council.'
BERLIN – The German government is considering stopping its "unconditional support" of Israel, German weekly Der Spiegelreported on Friday.
Senior politicians of both ruling parties, the Social Democratic Party of Germany (SPD) and the joint Christian Democratic Union and Christian Social Union, told Der Spiegel that there is a concern in Berlin that Prime Minister Benjamin Netanyahu was "instrumentalizing" Germany's friendship.
"Israel's current policies are not contributing to the country remaining Jewish and democratic," Norbert Röttgen, a member of Merkel's Christian Democratic Union, told the weekly.
"We must express this concern more clearly to Israel," added Röttgen, the chair of the Foreign Affairs Committee in the Bundestag, Germany's parliament.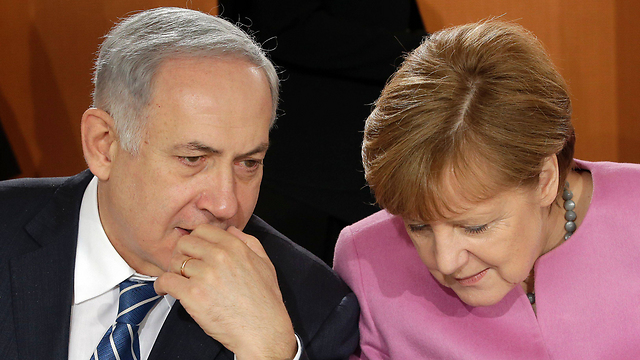 According to Der Spiegel, an evidence of a change in the German Foreign Ministry's attitude towards Israel is the refusal of then-foreign minister Frank-Walter Steinmeier to grant Netayahu's request to raise objections to a document authored by the EU's foreign ministers that criticized the construction of Jewish settlements in the West Bank.
"I'm counting on you," Netanyahu is quoted to have told Steinmeier at the end of his call to the German foreign minister.
Steinmeier, however, ignored the Israeli prime minister's pleas and threw Germany's support of the EU document, which states that "Settlements are illegal under international law, constitute an obstacle to peace and threaten to make a two-state solution impossible."
According to the weekly, this incident points to the weakening influence of Israel's friends within the German Foreign Ministry.
The Chancellery has also reportedly lost hope that Netanyahu would work to advance the peace process.
During a recent visit of Palestinian President Mahmoud Abbas to Berlin, Chancellor Angela Merkel is quoted to have said, "I understand why President Abbas continually seeks out the Security Council."
Meanwhile, Merkel's foreign policy advisor Christoph Heusgen, who is pushing for Germany to distance itself from Israel, is mentioned in the report as a supporter of the EU settlement product labeling policy.
According to Der Spiegel, Netanyahu is solely responsible for the fact Israel's critics within the German government are gaining strength. The weekly makes repeated mentions of Merkel's anger at a report coming out of her recent meeting with Netanyahu in Berlin, according to which the chancellor said that "this isn't the time for a two-state solution."
Israeli officials countered that Merkel made the comments during an official press conference, and that the atmosphere during Netanyahu's last meet with Merkel was very positive.
One senior official in Jerusalem said in response to the report that relations between Israel and Germany remain close and positive and will continue to be so. "It appears the comments in the Der Spiegel story are an attempt inside Germany to slam Merkel for her close ties with Prime Minister Benjamin Netanyahu," he said.
As reported by Ynetnews