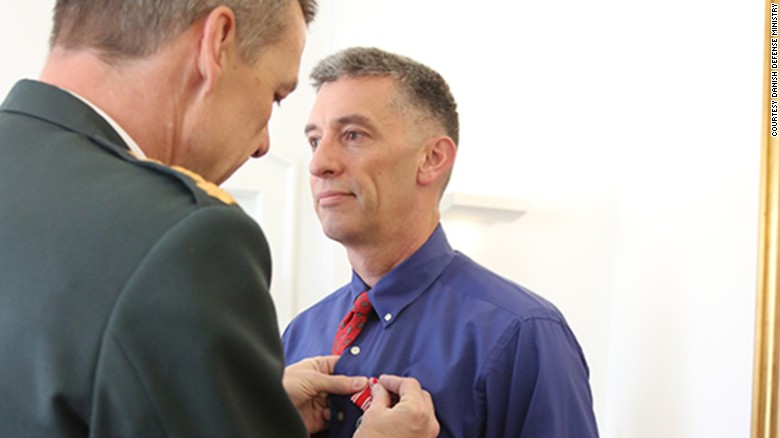 A U.S. Army captain working in Iraq helped foil a terrorist plot to blow up a school in Denmark, according to a U.S. defense official.
Capt. Bradley Grimm provided "actionable intelligence" gleaned from captured documents in Iraq about foreign fighters from Denmark that included information on threats against a Danish school using homemade explosives, according to Col. Steve Warren, a spokesman for the coalition fighting ISIS.
"The information he provided helped to foil the plot and resulted in an arrest and the confiscation of explosives" in Denmark, Warren said Wednesday. "Brad's work likely saved the lives of Danish citizens."
Grimm, who was based at al-Asad airbase in the western Iraqi province of Anbar, "did all of this voluntarily in addition to his duties," Warren said.
He was recently awarded the Danish Defense Medal for Special Meritorious Effort in a ceremony with Danish Chief of Defense Gen. Peter Bartram, the Danish embassy in Washington told CNN.
"As we conduct operations, as we work with our Iraqi partners, we are continuously working with them to try and draw out any tidbit of information that we can find that relates in any way to an external attack or external operation that ISIL is planning," Warren said, using another name for ISIS.
Earlier this week, the Danish parliament approved an expanded role for Danish forces in the fight against ISIS to include the authority to participate in ground combat operations in Iraq and Syria.
Defense Secretary Ash Carter said in a written statement that the move "will further increase the military pressure" on ISIS.
As a member of the anti-ISIS coalition, Denmark already contributes strike aircraft, air defense radar, training and assistance to Iraqi forces.
As reported by CNN