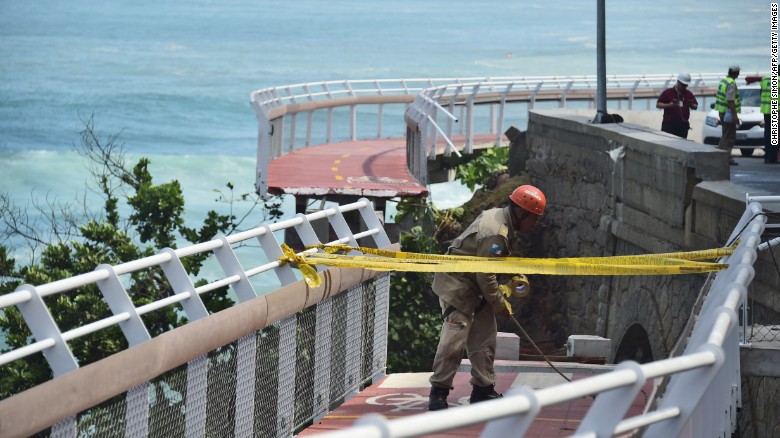 Rio de Janeiro – The host city for the 2016 Summer Olympics was hit with a setback Thursday when a large portion of a multimillion-dollar seaside bike path collapsed, killing two people and injuring three others.
The deaths came hours after the Olympic torch was lit in Greece as a prelude to the Summer Games in Rio de Janeiro.
According to the city's government, a strong wave struck, causing a 50-meter (164-foot) stretch of the path to detach and drop 800 meters (nearly half a mile) to Sao Conrado Beach.
Rio de Janeiro municipal spokesman Pedro Paulo Carvalho told journalists at the scene that at least two people had died. Firefighters told CNN the victims were two males and that three other people had been rescued.
The $12 million bike path, which Rio Mayor Eduardo Paes inaugurated in January, was part of the city's major renovation projects before the 2016 Games, which begin in August.
Carvalho said the city was contacting the engineers who designed the path to "check and revise" the project, which is scheduled to be extended to the Barra neighborhood in southern Rio.
People near the path used social media shortly after 11 a.m. to alert authorities and warn people to stay clear. Cyclist Eric Poseidon posted a video on Facebook, describing the scene and showing the path moments after it collapsed as well as what appeared to be one of the victims.
As reported by CNN