Jamal Hakrush, Israel Police's highest-ranking Muslim Arab officer, has a plan for extending police services to the thus-far neglected Arab sector.
The Administration for the Development and Accessibility of Police Services for the Arab Public was founded last week in the Ministry of Public Security. Its creation was fêted with great ceremony by the awarding of the rank of deputy commissioner to Jamal Hakrush, the first Muslim Arab in the Israel Police at that level. This new department's foundation begins in a story told by Mohammed Melham, a resident of the village of Arara in northern Israel, of the police's powerlessness to help the Arab population.
He told of a murder that occurred in his town four or five months ago. He didn't remember the exact month, and searching for it on Google didn't help. That murder wasn't covered or reported in the media.
It was a settling of accounts between criminals that accidentally cost the life of Nazmi Al-Rouh. The target of the assassination was a criminal who lives nearby, and Al-Rouh just was at the wrong place at the wrong time when the bullets began to fly.
The intended target, incidentally, survived. "In short," Melham relates, "we realized that this murder could lead to a blood feud, and we wanted to nip it in the bud. The local council contacted the police and asked them to seriously investigate the case. A few days after the murder, investigators from the Hof Central Unit arrived, went to the scene, and took down witness statements.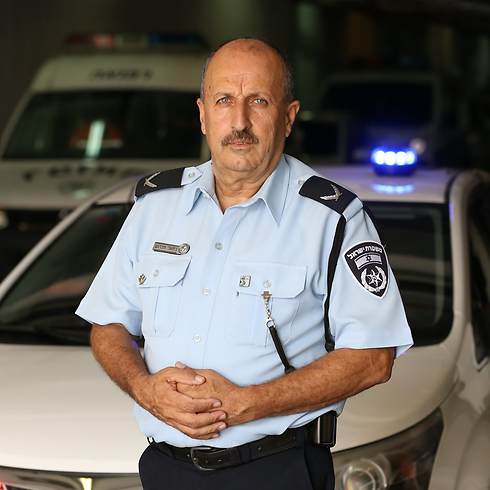 "At one point, they entered one of the houses near the place of the murder, and suddenly a car came down the street, slowed down, and fired rounds into the house where the investigators were. The shooters apparently didn't know that the police were inside."
Did they come out and catch the shooters?
"They came out, but after the shots had ended and the shooters had already fled. The investigators got to experience our reality in 'real time,' as they say; they got to feel firsthand what happens here on a daily basis. After the shooting, they left and haven't come back. We haven't heard from them since."
Before visiting Melham, we went to the Iron Police Station, which is responsible for all of Wadi Ara. The mound of problems and needs of policing in Arab towns could fill a book. That afternoon, after already wearing his new rank on his shoulders, Deputy Commissioner Hakrush told us that he was aware of the great responsibility he had undertaken.
"I know that the expectations of me are high, even very high, but I don't let it put pressure on me. This revolution will take time. My superiors know that and will give me time. Don't expect me to produce instant results. There are gaps of several decades, and we're going to build an infrastructure that doesn't exist yet.
"I see my role first and foremost as changing the perception of the police in Arab society. I want them to view police officers as coming to help residents and the Arab public to improve their quality of life. No task is impossible. There are easy and difficult tasks. This is a difficult task. There's a lot of work to be done here."
200 shooting incidents per year
It's a story that can be told by numbers. Approximately 20 percent of Israel's population is Arab, of which 84 percent are Muslims. In the police, there are approximately 30 thousand police officers; however, the rate of Arab Muslims serving in the police barely reaches 1.8 percent.
The Israeli Arab sector has a much higher criminality rate when compared proportionally to its population: 58 percent of arson offenses, 59 percent of murders, and 55 percent of attempted murders. While the Arab minority only constitutes a fifth of the population, the proportion of Arabs in Israeli jails in 2010 was 42 percent of all prisoners. These convicts are serving sentences for criminal charges, not security-related ones.
The Iron Police Station is responsible for an area encompassing a population of 180,000, only ten percent of whom are Jewish, the rest being Muslim Arabs. "Here, we have approximately 200 shooting incidents a year," said an officer at the station, "events that cause damage, shooting at vehicles, at homes, at people. We don't even count shooting in the air. Two days ago, we had a shooting and stabbing incident at Umm al-Fahm. One person was wounded by gunfire and two from stabbings.
"Did you hear about this on the news? Not a word, even though we issued a report. If something like that happens in Tel Aviv or Ashdod, you definitely hear about it. We are dealing with and fighting against these shootings, but we lack resources.
"We have a lot of incidents that start out as fights over road rage. A beep on the road in the afternoon can develop in the evening to a shooting incident. 'He looked at my sister' leads to shooting; 'he was looking at me,' leads directly to shooting.
"For years, it was convenient for the police and for the Arab residents to stay away from each other. This created a situation that every family has appointed 'guards' for itself from within the family. They need weapons. That's how the family gangs developed that later became criminal gangs.
"Ten years ago in Um el-Fahm, they wouldn't listen to us about neighborhood policing because the public wasn't ready to accept us—the police—as part of the community. Today, they come to us and ask us to set up neighborhood policing points.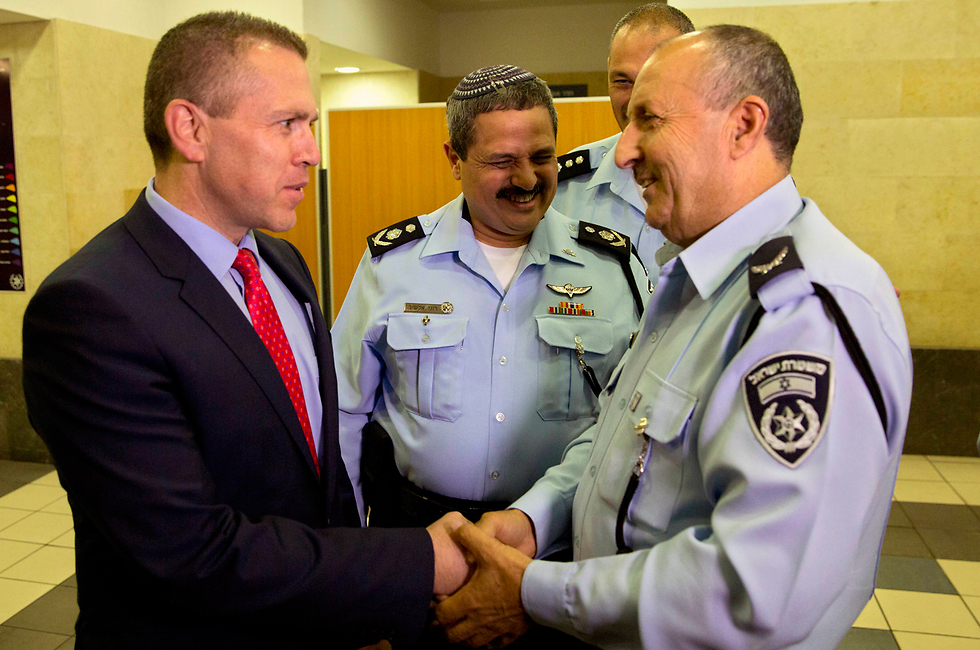 "Ara residents told us that the calmest period in the village for years was the week we were looking for the terrorist Neshat Melhem, who was a resident of the village. They pleaded with us not to leave, to stay in the village. 'That way, we could have quiet here,' they told us. 'Don't go.' There isn't a night that you don't hear shooting in the air. Young people don't listen to adults any more. Some of them bully on the streets.
"A fire truck that wants to enter an Arab village to save people from a burning house can't enter if we don't escort it. The firefighters are afraid. There have been incidents where fire engines were pelted with stones. The firefighters were getting out of a fire truck and running into a burning house, and during this time their truck was emptied of equipment.
"We get to scenes of shootings and murders, and we find an area wiped of evidence; even the shells have been collected. Instead of cooperating, they make it difficult for us. Most of the population is completely normative: academics, employees, independent contractors, and people of low, medium and high socioeconomic class— the majority wants to live their lives, to make a living."
According to the officer, the first step is to create a dialogue with local residents and leaders. "We need to let them know we are here for them, for their own benefit. Creating a police presence that will improve the level of personal security. The new administration created this week will try to create this."
They lock themselves inside the station
With a budget of two billion shekels for five years, the new administration is supposed to establish ten new police stations in Arab villages and four additional police locations to increase the personnel at existing stations, and to recruit 1,400 police officers. The hope is that several hundred of the recruits will be Muslim Arabs.
At the Iron Police Station there are 170 police officers. Only one of them lives in Wadi Ara. The station in Umm al-Fahm has appointed 70 police officers; however, only one of them is a resident there. Melhem from Arara, the chairman of the Wadi Ara Public Committee Against House Demolitions and Land Confiscations, says that the level of the Arab public's confidence in the police is so low that the chance that young Arabs will enlist in the police is almost zero.
"In the Arab sector, there is an historical sense that the establishment uses the police as a means to oppress the Arab population. We see them when they guard demolitions and disperse demonstrations. When it comes to classic police work, we don't feel their presence. While the Hadera police, for example, provide personal security for the residents of Hadera, there is no such thing here in Wadi Ara."
Police officials have said that the local population doesn't cooperate with law enforcement activities.
"The distrust is the result of decades in which the police used violence against Arabs. Since October, some 60 Arab youths were killed by the police, and the police officers were always acquitted. It creates mistrust. The argument that we don't help the police is ridiculous.
"I can tell you that whenever there is a murder, the police come an hour later, maybe more. During that time, there are people who are wiping the scene. Maybe instead of blaming us, they just need to get here faster.
"We also want the police here. Police that will work together with us, not against us. We want, for example, for Umm al-Fahm to have 200 police officers, not 70. Today, you don't see police on the streets there. They shut themselves inside the station. We need a massive presence and police officers that come from our sector. You see, this is a decades-old problem. Hakrush took on a very heavy task."
From gate guard to the top
Hakrush, aged 59, is married to Sana, has three daughters and a son, and is a grandfather of six. His brother Jalal serves in the North Central Unit as an investigator, his daughter Najam is a police officer and his son Khalid is a lawyer at the Haifa District Attorney's Office. Police Chief Roni Alsheikh has called him a multicultural officer, and, poetically, he explained what he meant: "A cop who can cope with the challenge of maluhia (a traditional Arab dish) and the challenge of gefilte fish."
Hakrush was born in Kafr Kanna, near Nazareth, where he grew up in a house with eight brothers and three sisters. His father was a farmer ,and his mother helped him in the fields and raised the children.
"After high school," he said after his recent promotion ceremony, "I studied construction engineering at the Technion. My father was a construction worker, and it seemed natural for me to learn a trade in the construction industry. But the police attracted me, and I was interested. I saw police work, and it challenged me. Maybe because I was a young man, action interested me."
He signed up at age 21, and he was first placed at the sentry booth at the entrance to the Hadera Police Station. From the guard booth, he moved onto the patrol department in the station. After three years, he went into the commissioned officers' course and returned as a patrol officer. His older brother Amin recalled the week that at the end of his officers' course when Jamal said, "This is just the beginning of my path, I'm not going to stop here."
And so it was. From Hadera, he went to the patrol department at Zvulun Statio,n and from there he then took command of the patrol department in Haifa. Years later, he returned to Zvulun as the station commander and made history when he became the first Muslim Arab commander in the police.
He also commanded the Nahariya and Afula stations. All his positions were classic policing tasks: patrolling, in a police car, wearing a blue uniform; in service roles, lacking the glory of detectives and investigators in stories that are featured in headlines. This is also an advantage in the current police leadership which has alumni from SWAT teams, national investigation units and the Shin Bet: Hakrush knows the police like a mechanic lying under the car, knows the daily grind, which involves meeting with citizens.
One of his subordinates compared it to the shipping world: "Hakrush worked for years in the engine room, at the back of the boat." An officer who served under him said he is mild-mannered, courteous, and very sensitive, but one should not get the wrong impression about him: "He isn't a sucker; you can't get anything by him."
The officer said that Hakrush is respected in the Arab sector, "and in this sense, he is an asset to the police. What a thousand meetings and situational evaluations can't do, he does it by making a single phone call to a head of an Arab authority, and the matter is done. During the last operation in Gaza, a demonstration was organized in Umm al-Fahm. Discussions were held, intelligence was received, and situational assessments were conducted with the Shin Bet, among others. Finally, he made a call to someone, and he came and said, 'I spoke with somebody. Reduce the forces; we don't need so many police officers. I took care of everything,' and so it was. It went great."
"There are quite a few problems, one of which is the image of the police among the Arab public," said Hakrush. "We are perceived as someone who stops and gives tickets, only as an annoying presence. But my duty is to create a certain quality of life for the citizens, and if I provided personal security, I created that quality of life.
"So my mission is to change that perception. If there is a problem of distrust, both sides are guilty. Police services between the Arab sector and the rest of society are not equal. On our part, the police has to do a job, increase our presence, provide service, be attentive, and work together with residents.
"But we have a saying in Arabic: one hand doesn't clap; you need two. So the Arab community needs to work with us—that's the key."
Do you think you can change the system's attitude toward the Arab community and the Arab community's attitude toward the police?
"I can commit to maximum willingness and action. For example, I want to recruit hundreds of Muslim Arab police officers. I intend to go to young people and tell them, 'It's time to have a police service in the Arab villages and communities. We have the budget for this step, but so it will be the absolute best it can be, I need you; I want you begin the process.'
"I'm going to go to them and tell them honestly that, up till now, this hasn't happened. I'll ask them to be the pioneers of this process. This will be my explanation: If the police provide security for your family, your home, your business, it actually provides a security service for your soul, the quality of life."
We talked while he had his picture taken with family members, officers, subordinates and heads of Arab authorities. One of them asked him with a wink if he felt he reached the peak of his career, and Hakrush answered as he did to his brother Amin after completing the police officers' course: "It is indeed a peak, but I haven't yet said my last work in public service."
As reported by Ynetnews