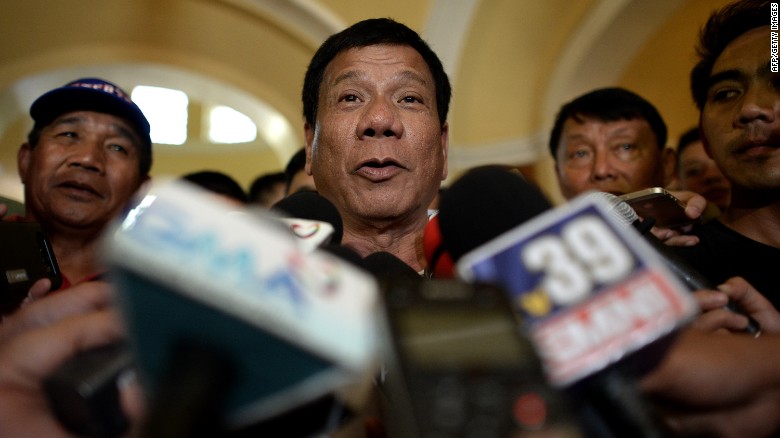 After staunchly defending his controversial comments on gang rape, Philippines presidential hopeful Rodrigo Duterte buckled to growing pressure and issued an apology on Tuesday.
Duterte had joked about the 1989 rape and murder of an Australian missionary that took place in Davao City, in the country's southeast, where he is mayor, CNN Philippines reported.
"I was angry she was raped, yes that was one thing. But she was so beautiful, I think the mayor should have been first. What a waste," he said, according to a CNN Philippines translation of the comments, which appeared in a YouTube video over the weekend.
He had made the comments during a campaign rally on April 12. And for days, Duterte balked at calls to apologize for his rape comments.
"If it brings me down, let it bring me down. If it brings me up to the presidency, then well and good. I will serve you, but I will not as a matter of honor apologize for (it)," he told reporters.
But after drawing international condemnation from women, human rights organizations, political critics and celebrities in the Philippines, Duterte issued a statement Tuesday.
"I apologize to the Filipino people for my recent remarks in a rally. There was no intention of disrespecting our women and those who have been victims of this horrible crime."
He chalked up his comments to his mouth getting the better of him. And Duterte professed to be "angry because horrendous things like this continue to happen to our women and children all over our land."
"I will not apologize for the things I've done to protect our people, especially the weak and defenseless, from crime."
Duterte's initial comments referred to an incident at Davao City jail during his first term as mayor when inmates took 15 church workers hostage — including the Australian lay minister. The Australian embassy in the country was critical of his comments on Facebook: "Rape and murder should never be joked about or trivialized."
His comments drew heated criticism from his political rivals in the upcoming May 9 presidential election, which one recent poll tipped him to win.
Jejomar Binay, current vice president and presidential candidate, said that Duterte didn't deserve to be elected to the country's top job: "Rape and murder of a woman is not funny at all. Mister Duterte, don't you have a mother? Don't you have daughters? Your statement is simply revolting."
Known for being outspoken, it's not the first time Duterte has made inflammatory statements. He has pledged to execute more than 100,000 criminals if he's elected, according to local media.
As reported by CNN