Pyongyang, North Korea – A North Korean official said recent remarks by Republican frontrunner Donald Trump are "absurd and illogical," in a rare interview granted to a CNN team in Pyongyang.
Trump suggested the U.S. military should withdraw from key allies South Korea and Japan, and both countries could instead arm themselves with nuclear weapons.
"Donald Trump's remarks are totally absurd and illogical," says Ri Jong Ryul, deputy-director general of the Institute of International Studies in Pyongyang.
"The U.S. tells us to give up our nuclear program, is preparing a nuclear attack against us, and on the other hand would tell its allies to have nuclear weapons. Isn't this (a) double standard?"
Pyongyang has not officially responded to Trump's remarks. Last week, North Korean propaganda attempted political satire — adopting the voice of Abraham Lincoln — scolding President Barack Obama for U.S. nuclear policy.
Called out for inflammatory rhetoric
Even in a country known for bellicose rhetoric, Ri believes Trump's ideology is dangerous.
"Trump's remarks give us deeper look at America's hostile policy against my country," Ri says. "Simply put, America's hostile acts against us are making the situation on the Korean peninsula worse."
He warns a policy like Trump's would only escalate North Korea's nuclear ambitions.
Could we trust Trump with U.S. foreign policy?
Peace talks thwarted
Last year, North Korea asked for peace talks with the United States. Washington rejected the request when Pyongyang refused to commit to stopping its nuclear weapons program.
In January, just days before his birthday, North Korean Supreme Leader Kim Jong Un ordered an H-bomb test. One month later, he ordered a satellite launch using a long-range rocket.
Observers believe Kim is trying to project strength ahead of the crucial Worker's' Party Congress next month — where the young leader could gain even more power.
A failed mobile missile launch Friday, which coincided with North Korea's most important holiday, marking the birthday of late founder and president Kim Il Sung, may have also been an attempt to show force in the face of what the North considers a looming threat from its southern neighbors.
About 17,000 American service members are engaged in eight weeks of military exercises, with 300,000 South Korean troops.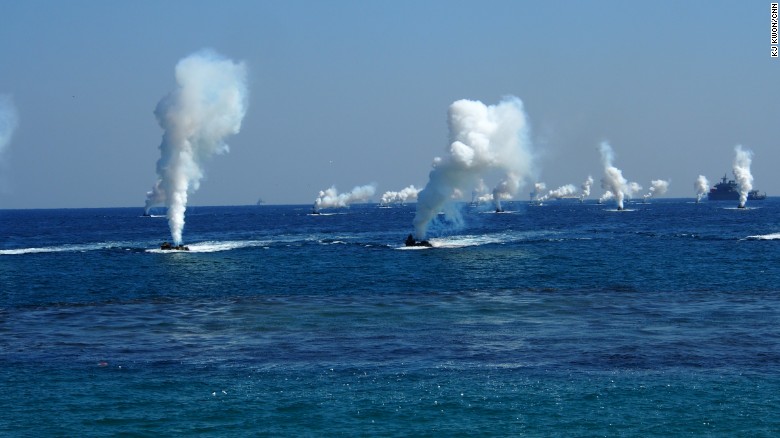 Displays of strength
North Korea's own military response has included firing projectiles, claims of miniaturizing nuclear warheads, and promises of more nuclear and missile tests.
Few North Korean officials study American politics like Ri, a longtime diplomat and former ambassador who now runs a Pyongyang think tank that monitors global events and reports back to North Korean leadership.
Ri is one of a handful of North Koreans who can access the Internet. State media doesn't cover details of the U.S. presidential campaign — the average person wouldn't recognize any of the candidates.
"We're not really interested in the U.S. election," he said. "We don't care who becomes the next U.S. President.
"Whether Republicans or Democrats take power, it has nothing to do with us. American politicians have always had a hostile policy against (North) Korea."
As reported by CNN