In special government meeting in the Golan, the prime minister vows to keep the area under Israeli rule and promises to aid in its development.
The Golan Heights will remain part of Israel forever, Prime Minister Benjamin Netanyahu declared Sunday.
"In the 19 years the Golan was under Syrian occupation, it was used for bunkers, barbed wire fences, landmines, and aggression. It was used for war. In the 49 years it has been under Israeli rule, it has been used for agriculture, tourism, economic initiatives, construction. It is being used for peace," Netanyahu said during a special government meeting in the Golan Heights.
"I chose to hold this special government meeting in the Golan Hights to send a clear message. The Golan Heights will forever remain in Israel's hands," the prime minister stated.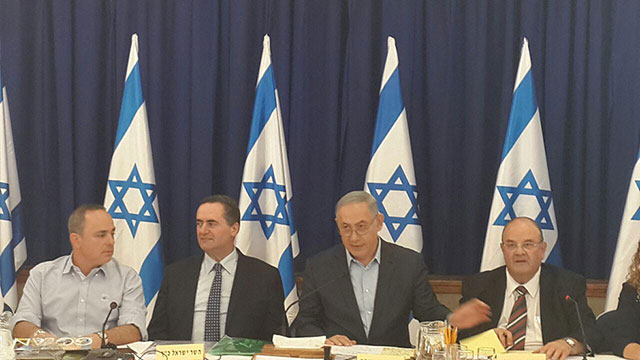 The Golan's population, he said, was growing every year, with some 50,000 people currently residing there and "thousands of families that are supposed to join them in the coming years."
Netanyahu vowed to keep supporting and strengthening the residents of the Golan, its towns and cities, industry, agriculture, and more. "Including decisions we'll make in this government meeting," he added.
The prime minister noted that the Golan was an integral part of the Land of Israel in ancient times, "as evidenced by the dozens of ancient synagogues around us," and that the Golan is also an integral part of Israel in current times.
He spoke of the war and destruction on the Syrian Golan, saying he told US Secretary of State John Kerry that he "doubted Syria will ever return to what it once was."
The prime minister said he told Kerry that Israel would not pose objections to any diplomatic agreement in Syria so long as it does not compromise the State of Israel's security. "Meaning, at the end of the day, Iran, Hezbollah and ISIS forces must be kicked out of Syrian territory."
Justice Minister Ayelet Shaked reiterated the prime minister's statements, saying "one of the goals of this meeting is really to publicly declare that we expect the world's nations to also recognize Israel's northern border as an international border, including the Golan Heights of course."
As reported by Ynetnews