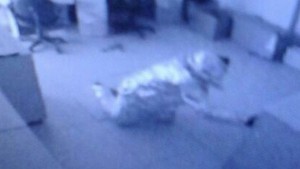 Two would-be robbers left a shiny impression on police in southern Brazil, when they chose an unusual form of camouflage during an attempted bank robbery: head-to-toe aluminum foil.
According to Santa Catarina military police, the suspects were most likely trying to foil the alarm of the Praia Grande branch of the Banco do Brasil late Saturday when they chose the metal outfits.
What they failed to notice were the internal security cameras, which were capturing their every move in a centralized surveillance office.
"They broke down one of the walls and thought the detectors from the alarm would not notice them," Santa Catarina military police spokesman Maj. Cristian Dimitri told CNN. "When the bank's central monitoring system saw them on the screen, they called the police immediately."
Screen grabs from the closed circuit footage showed two men crawling on the ground in the improvised aluminum suits, near the bank's main safe.
"We found a power drill and other instruments that lead us to believe they were looking to break into the safe," Dimitri said. "However, they left empty-handed."
Police believe they were working with one or two other people, who acted as lookouts and tipped them off before the squad cars arrived on the scene.
At least one person was arrested over the weekend in connection with the attempted robbery. According to Dimitri, the man was found in nearby woods and had previous robbery arrests on his record.
In the past, a separate group managed to rob several ATMs in Rio de Janeiro using an aluminum cloak. The disguise was meant to throw off an alarm activated by body heat.
As reported by CNN