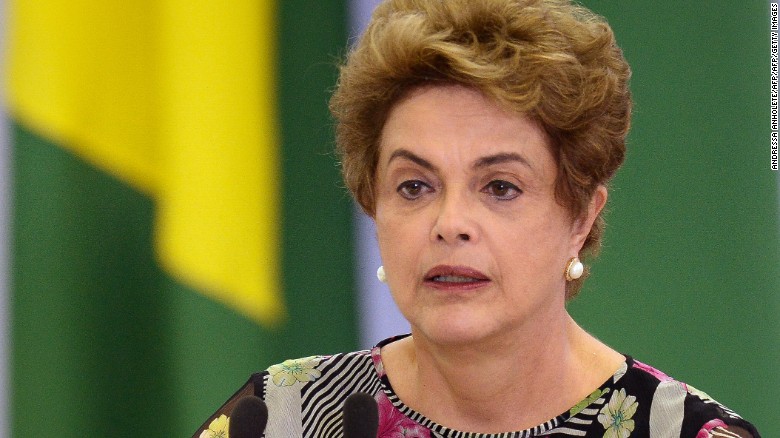 Rio de Janeiro (CNN)A congressional committee in Brazil's lower house on Monday voted in favor of impeaching President Dilma Rousseff.
After a full day of debating, the majority of the 65-member special committee voted in favor of the impeachment: 38 lawmakers voted yes, while 27 voted no.
The heated debate ended at approximately 8:30 p.m. As the results were read, lawmakers yelled and waved a mix of colorful signs. Some said, "There won't be a coup" while others demanded "Impeachment now."
The impeachment proposal will now be taken to the full session of the lower house, where representatives will begin debating on Friday. The final vote is expected to be delivered this Sunday.
If impeachment is approved by at least two-thirds of the 513 members of the lower house, it will then be sent to the Senate, where the president of the Supreme Court will oversee the process.
If the impeachment is not approved in the lower house, the process is nullified.
Pro- and anti-government demonstrations are expected to gather near the congressional esplanade this weekend.
Police in the capital Brasilia have already installed barricades near the centrally located government building, and designated specific areas for the gatherings to avoid confrontations between the protesters.
Lawmakers accuse Rousseff of hiding a budgetary deficit to win re-election in 2014. Her presidency has been rocked by a massive corruption scandal, accusations of cronyism and a deepening recession.
A sweeping corruption investigation into an alleged multimillion-dollar kickback scheme at the state-run oil company Petrobras has embroiled dozens of the country's leading businessmen and politicians.
Among those under investigation is the president of the lower house, Eduardo Cunha, who is leading the calls for Rousseff's impeachment.
Rousseff has accused Cunha and his supporters of "staging a coup" against her.
If Rousseff is impeached, Vice President Michel Temer would assume the presidency.
Temer has been linked to the same violations for which Rousseff is being investigated.
Earlier Monday, audio recordings of Temer practicing what sounded like an acceptance speech were accidentally leaked and published by the Folha de Sao Paulo newspaper, one of the country's largest publications.
In the 15-minute audio excerpt, he speaks of the "long process ahead" that he would face as Rousseff's "constitutional substitute."
As reported by CNN