Kollam, India –The disaster came too quickly for Bhadran to understand what had just happened.
One moment, he and two friends were celebrating Hindu new year's festivities at a south Indian temple. Minutes later, his two friends were dead.
"I did not know what happened," said Bhadran, who gave only one name. "There was a huge fireball, and it was all over in five minutes. Once I reached the ground, there were dead bodies all around."
The blast Sunday at the Puttingal temple killed at least 105 people and injured more than 500, authorities said.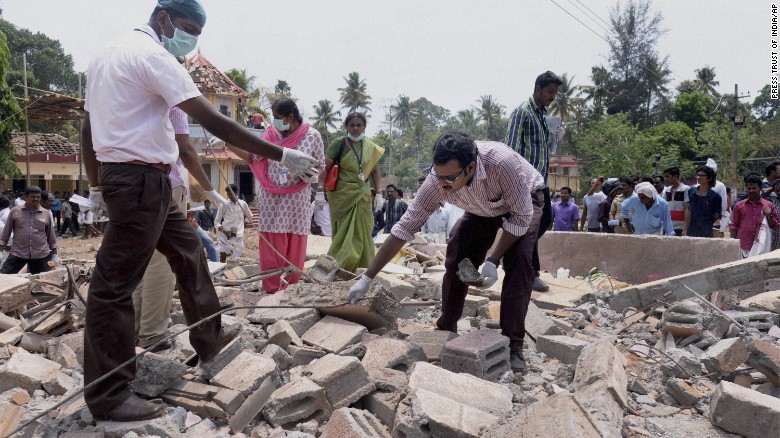 Sparks from a fireworks display ignited a stockpile of fireworks, causing a larger blaze, local police official K. Laljy said.
The inferno destroyed a temple office building and a storage shed. It also damaged nearby houses in Kollam, which is in Kerala state in southwest India.
Nirmala, 58, was sleeping in her house nearby with her daughter and granddaughter when the blast occurred early Sunday morning.
"I thought there was an earthquake and hid under the bed," she said. "When I came out, there was no electricity. People were running everywhere, and burnt bodies were on the ground. The smell was really bad."
Some of those killed died from burns; others died from suffocation or from the crush of collapsed buildings.
Those injured and hospitalized will receive free treatment, said Oommen Chandy, chief minister of Kerala state.
While the impact of the blast caused two small buildings to crumble, the temple's main shrine was not severely damaged.
Criminal case opened
The temple did not have permission for the fireworks celebration, police official M.S. Santosh said.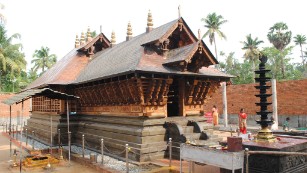 Authorities filed a case of culpable homicide against temple authorities and two fireworks contractors, Kollam police said.
Known for fireworks shows
The century-old Puttingal temple is named after a goddess whom worshippers believe lived inside an ant hill.
According to the temple's website, festivals there often include pyrotechnics — including some fireworks that appear low to the ground.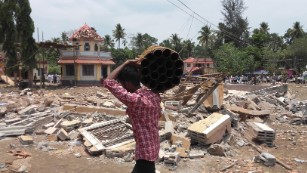 It's not uncommon for people to pray at temples early in the morning in southern India, police commissioner P. Prakash said. Hundreds were still at the temple at 3:15 a.m. Sunday, when the explosion occurred.
Indian Prime Narendra Modi called the fire "heart-rending and shocking beyond words." He visited injured victims of the blast Sunday evening.
Modi's office said the families of those killed will get about $3,000 in "ex-gratia relief." Those injured in the temple fire will receive 50,000 rupees ( $751) in compensation.
Searching for loved ones
By late Sunday, no one remained at the temple. Those searching for loved ones had rushed to the local hospital, hoping to find survivors.
Relatives also plastered photos of victims at a temporary medical camp near the temple.
That's where charred bodies are being stored. Authorities said it would be too difficult to get everyone inside a mortuary to identify all the burned bodies.
As reported by CNN