Hotel Review: Dead Sea hotel offers relaxing massage, sulfur pools, a Jacuzzi, a sauna and steam room, along with a lavish buffet breakfast and a really comfortable mattress.
There is a lot going on at the sprawling, 302-room Daniel Hotel at the Dead Sea: several restaurants; a pub; a comprehensive recreation area comprising tennis courts, a soccer field, a basketball court, a volleyball court — even a fully automated seven-lane bowling alley and billiards lounge on the premises. Pools for adults and children and a "kingdom" full of games and activities for kids of all ages. Everything a family could ask for in a vacation.
Or, you could do what I did: escape on your own (or with a special someone) and try what I call "actively doing nothing." It's something that can be accomplished with the help of the Daniel's Shizen Spa, a place I discovered to be a portal to blissful relaxation.
The assignment I gave myself was to see how much I could de-stress in a one-day stay. I checked into the hotel in the evening, so the spa was closed. But the king-sized bed beckoned; there was a good movie on the LCD satellite TV, and there was no leaving that comfortable mattress until I had enjoyed a good night's sleep.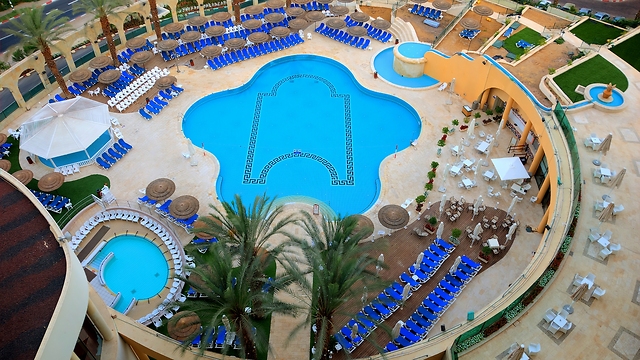 My wake-up call came exactly as ordered, and the lavish buffet breakfast exceeded my expectations: separate hot and cold buffets; salads; hard and soft cheeses; cereals; fresh and dried fruits; breads, pastries and cakes; omelets made-to-order — even kanafeh. There were also two coffee stations: one staffed by a barista, the other self-serve for take-away. It was not easy to refrain from overeating, but I knew that stuffing myself past satiety would interfere with the ultimate goal of maximum relaxation.
Even before my arrival, I had studied the Shizen Spa Treatment Menu to choose the massage I wanted. There was a wide variety of health and beauty treatments on the eclectic menu, which draws from Western and Eastern holistic traditions, including Indian Ayurveda. I elected the anti-stress massage and booked it days in advance.
The Shizen Spa comprises two floors: the ground floor houses the Dead Sea water and sulfur pools, the Jacuzzi, a sauna and steam room, while the upper floor is given over to treatment rooms. I was called for my massage at the appointed time; and for 50 minutes, I was treated to a full body massage literally from head to toe, starting with pressure on reflexology points on the soles of my feet and culminating with soothing strokes on my face and scalp. In between, the muscles of my back, legs and neck were kneaded until all the kinks and knots of tension were worked out.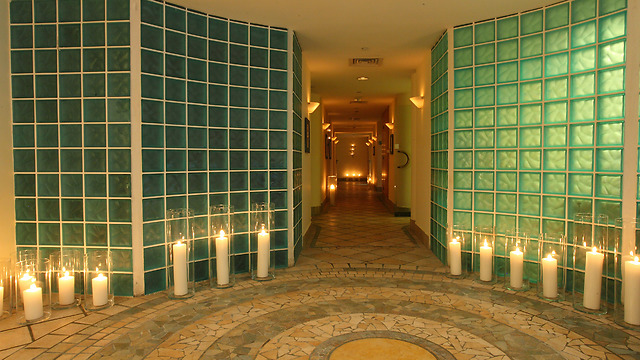 I made my way downstairs to soak in the therapeutic pools, which are free of charge to all hotel guests — although there is a surcharge for the sulfur pool, which was my first stop. It takes a few minutes to adjust to the smell, and the slick feeling on the skin from the water's minerals, but the extreme buoyancy of the water quickly becomes the number one characteristic of the experience. Within moments, you are floating as if on air; I closed my eyes and was thankful that I had both the entire pool and the whole small room in which it was enclosed to myself. I thought I was motionless on the still, smooth water that was exactly the perfect temperature; but when I eventually opened them, I saw that I had drifted all the way to the other side of the pool. I had no idea how long I had been lying there, but I do recall that the awesome feeling of weightlessness was practically akin to being in a sensory deprivation or isolation tank — minus any hint of claustrophobia. The immersive nature was all-encompassing, as was the near euphoric relaxation.
The move to the other pools was a bit anti-climactic, but in no way detracted from the glow I was still feeling. If anything, floating in the Dead Sea water pools — the indoor one connects to its twin outdoors — and then sitting in the bubbling Jacuzzi prolonged the sense of well-being.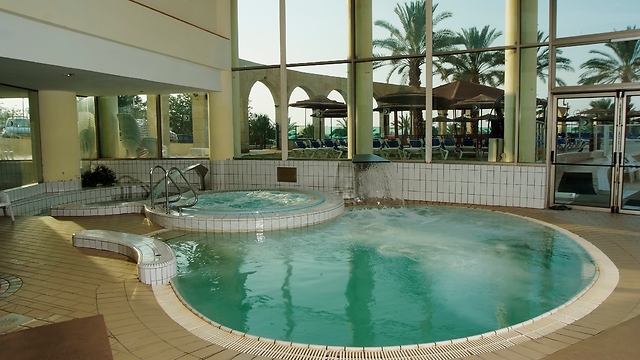 I would have liked nothing better than to crawl back into that massive bed and continue to bask in the residual embrace of sublime relaxation. At least it did not dissipate when I checked out, and I left with the knowledge of "mission accomplished."
I don't necessarily recommend trying to squeeze relaxation into one day, although if time is a factor, there is a Shizen Spa also in the Daniel Dead Sea's sister hotel, the Daniel Herzliya; both belong to the chain of Tamares Hotels. The healing pools are at the Daniel Dead Sea, however, and it certainly is possible — and even a good idea — to take advantage of them more than once in the course of getting away in the pursuit of ultimate relaxation.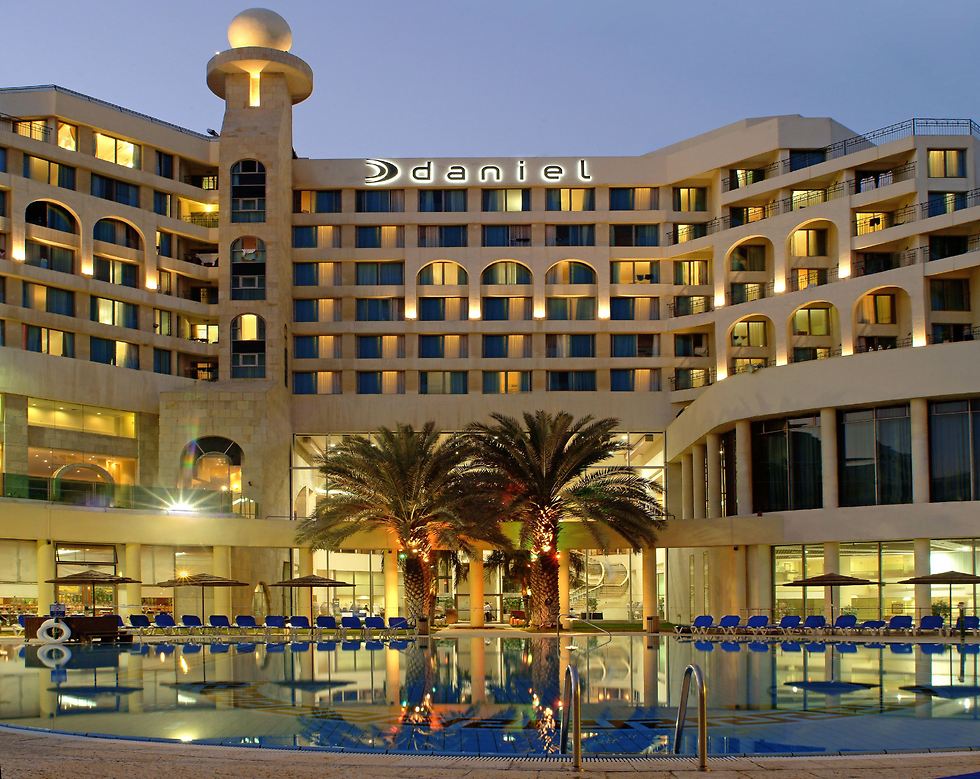 Daniel Dead Sea Hotel
Ein Bokek
Tel. (08) 668-9999
As reported by Ynetnews