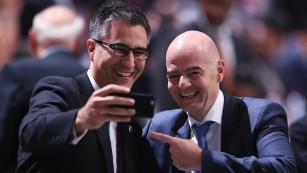 The European football body, UEFA, is the latest entity dragged into the now infamous Panama Papers scandal.
Swiss police raided European soccer's governing body's headquarters in Nyon, as the seemingly worldwide investigation continues. UEFA's former general secretary, Gianni Infantino — who is now FIFA's new boss — said Wednesday he welcomed any investigation, having earlier denied any wrongdoing.
In a statement, UEFA says police wanted to look at a now controversial television rights contract that has emerged from the data leak.
"UEFA can confirm that today we received a visit from the office of the Swiss Federal Police acting under a warrant and requesting sight of the contracts between UEFA and Teleamazonas," a UEFA spokesman told CNN.
"Naturally, UEFA is providing the federal police with all relevant documents in our possession and will co-operate fully."
The Teleamazonas contract was related to the sale of television rights in South America to broadcast Champions League games — Europe's top competition.
The files published by the International Consortium of Investigative Journalists (ICIJ) allegedly show a television rights contract with Infantino's signature on it.
Argentine company, Cross Trading, initially bought the rights from UEFA before selling them on to broadcaster Teleamazonas, a subsidary of a company called Full Play, which is owned by Hugo Jinkis.
Both Hugo and Mariano Jinkis, a father and son who ran a sports marketing business in Argentina, are facing extradition to the U.S. after being indicted on corruption charges by the Department of Justice in the massive worldwide case against current and former FIFA officials.
FIFA's chief Infantino, has only been at the helm for about a month. It was hoped that his election would stabilize football's embattled world governing body.
"If my determination to restore football's reputation was already very strong, it is now even stronger," he said in a statement.
"UEFA has already disclosed in detail all facts regarding these contracts," Infantino said Tuesday.
He added Wednesday that UEFA had acted with "transparency and clarity."
"Based on these documents, it is clear that all contractual matters were conducted properly by UEFA," Infantino said.
"Should I be required to contribute to bringing further clarification on the matter, I will of course gladly do so.
"It is in my interest and in the interest of football that everything should come to light."
Their lawyers have previously told journalists that they are innocent of all accusations.
UEFA said the TV rights contract was awarded after an open tender conducted by TEAM Marketing, acting on behalf of UEFA in 2006.
"The rights were awarded to Teleamazonas/Cross Trading because they made the highest offer on the market," added UEFA.
In his statement, Infantino said he had never personally dealt with Cross Trading nor its owners.
"Moreover, as media themselves report, there is no indication whatsoever for any wrongdoings from neither UEFA nor myself in this matter."
UEFA had previously denied doing business with any of the 14 people or companies named by the U.S. Department of Justice, in the U.S. criminal case.
"It's correct that UEFA was asked some time ago whether it had any commercial dealings with certain companies and/or individuals named in the U.S .indictment," said UEFA in a statement.
"At the time of our initial response we had not had the opportunity to check each and every one of our (thousands) of commercial contracts and so the answer given was initially incomplete.
"That's the reason why Gianni Infantino initially thought, based on the information provided by UEFA, that there had been no previous UEFA contracts with any companies and/or individuals named in the indictment.
"That is also why FIFA gave this information to the media."
The alleged ties were drawn from more than 11 million documents leaked from Mossack Fonseca, a Panama law firm that allegedly helped set up secret shell companies and offshore accounts.
The ICIJ, which published the 2.6 terabytes of leaked data, reports that the firm helped establish secret shell companies and offshore accounts for global power players.
CNN is unable to independently verify the ICIJ reports and is seeking comment from the most prominent figures mentioned. They are spread across Europe, Asia, the Middle East, Africa and the Americas.
Ramon Fonseca Mora, a co-founder of Mossack Fonseca, told CNN that the information published about the firm was false, full of inaccuracies, and taken out of context.
In longer statements provided to ICIJ, the firm said that the parties "in many circumstances" cited by the ICIJ "are not and have never been clients of Mossack Fonseca."
The ICIJ carried out the yearlong investigation in cooperation with more than 100 different news organizations.
As reported by CNN