A long-simmering, violent feud in Eurasia is now on pause — at least according to one of the dueling countries.
Azerbaijan announced a unilateral ceasefire in its conflict with Armenia, a territorial riff that has been brewing for years but recently turned deadly.
The announcement Sunday came a day after dozens of soldiers from both countries were killed, Azerbaijani state media reported.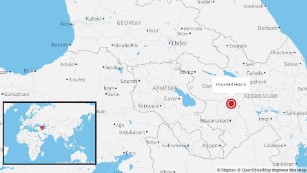 But moments later, the Armenian News Agency said Azerbaijan was still attacking with missile artillery systems.
"As a result of the rival's bombardment, houses, trees, as well as gas pipelines feeding the city (of Martakert) have been damaged, Armenpress reported.
Martakert is in Nagorno-Karabakh, a region at the center of the Azerbaijan-Armenian dispute. The region is occupied by Armenian forces but surrounded and claimed by Azerbaijan.
Azerbaijan said it reached a unilateral ceasefire decision "to stop counter-attacks and retaliatory action against the enemy in the occupied territories of the Republic of Azerbaijan" after international calls and the country's efforts to pursue a "peaceful policy," the Azerbaijan state news agency Azertac reported.
But Azerbaijan said it will respond to any continued "provocations" with "offensive operations in order to destroy the enemy."
Recent wave of violence