The Knesset Opposition Leader had fierce words for those behind publicizing the police's investigation of his actions. He claimed his political opponents are to blame.
Knesset Opposition Leader Isaac Herzog strongly attacked those who are supposedly behind the publication of recent police suspicions that he violated the Parties Financing Law during the Israeli Labor Party's 2013 primary elections. "We are not suckers, and we understand well why this is happening, and whoever did this is going to receive a political kick that will teach them a lesson," Herzog said at a Thursday conference at the Institute for National Security Studies (INSS) in Tel Aviv. He hinted that people from inside his own party may be responsible for leaking the story.
"I suggest that everyone remain calm," Herzog said, "Every time, before a general or internal election, there are political actors who attempt to take us down and turn the police into a part of the campaigns they try and run at our expense. We know this way (of operating) well, we have dealt with it in the past, and we will respond forcefully to any attempt to make the police a part of any political campaign of any sort."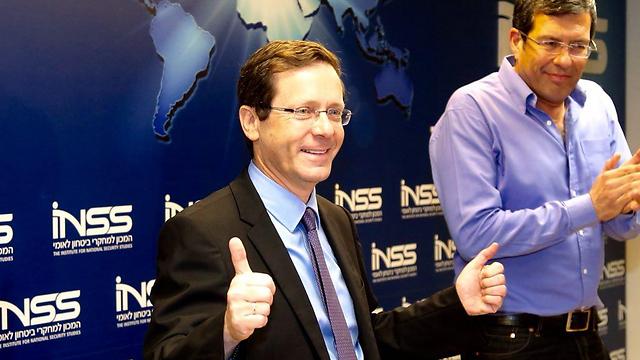 The Zionist Union Chair said that he is "not afraid of any examination or any investigation, and I will cooperate with any procedure. It's clear that this is an absurd smear, meant only to try and deter me from running (for reelection as party leader) and leading the Zionist Union, and to deflect me from the path in which we are progressing."
He continued, saying that the Zionist Union was going on their way "in order to change the dangerous direction in which Netanyahu and the extremist right are leading us. But I will persevere, and I will lead, and I will win, and we will make sure that those who operate via these methods will be exposed and regret the moment they chose this way."
"Over the years, I've proven to everyone, in our party and the public at large, that I'm no sucker, and I know how to kick when I need to," he added. "In the general election (of March 2015. -ed) I brought in a number of (Knesset seats) that no one even dreamt I would. I suggest that you not mistake the meaning of my smile. Those who try and harm me, those who try and harm us, will take a blow they won't forget."
Herzog is one of two senior politicians currently under police investigation. The other is Interior Minister Aryeh Deri, who was convicted and jailed for corruption charges in the past. The two men's cases do not appear to be connected.
As reported by Ynetnews