Brussels, Belgium – Protesters stormed into a memorial for Brussels attack victims Sunday, raising their arms in Nazi salutes and shouting anti-immigrant slogans as they scuffled with with people who'd gathered for a peaceful vigil there.
It was a startling sight after days of calm gatherings at the Place de la Bourse, located in a commercial district of the Belgian capital.
Organizers had postponed a scheduled march in Brussels out of security fears, but some mourners still came to the makeshift memorial Sunday. They laid flowers at the foot of the stairs leading to the Brussels Stock Exchange.
The mood changed swiftly around 2:45 p.m., when several hundred men — most of them dressed in black, a handful of them with their faces totally or partially obscured, and many of them carrying alcoholic beverages — arrived on the square.
One demonstrator sparked a flare, and others lit firecrackers in the square. A group unfurled a white banner that said "FCK ISIS" and "Casuals Against Terrorism." It's unclear if the groups are related, but Casuals United is a British far-right group affiliated with the English Defence League, which opposes the spread of Islam and Sharia law.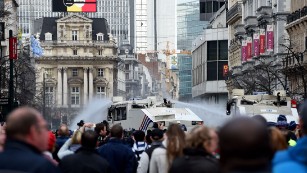 The nationalist demonstrators chanted "We are at home," and there were minor scuffles as some people at the site trampled through the flowers, flags and balloons that make up the memorial for those killed in Tuesday's terrorist attacks.
Mourners countered the men's chants with their own: "No to hatred" and "We are all the sons of immigrants."
Backed by two white tactical vehicles with water cannons aimed at the crowd, riot police formed a horseshoe around the anti-immigrant demonstrators, corralling them and pushing them down a nearby boulevard, away from the memorial.
The crowd on the stock exchange's steps cheered as police briefly unleashed the water cannons on demonstrators.
With Brussels still on edge after Tuesday's bombings, authorities had requested that a peace march planned for Easter be postponed, organizer Sophie Barthelemi said. The rally was set to mark the terror attacks that killed 28 people from various nations.
For those who went to the Place de la Bourse memorial Sunday, the atmosphere of quiet sorrow was shattered only briefly; it took about an hour for police to clear the protesters.
That was enough time to expose a powerful divide in how people in Brussels are responding to terror.
Suspect charged
Authorities continued the complex task of unraveling the plot behind Tuesday's horrific bombings. There's an ongoing manhunt for two attack suspects seen in surveillance footage at the airport and the metro station.
Another suspect has been charged with "terrorist murder," Belgium's Federal Prosecutor's Office said. Authorities identified the suspect as "Faycal C," but they haven't specified what role the person allegedly had in the bombings at the airport and a subway station.
In addition to terrorist murder, Faycal C. faces charges of "participation in terrorist activities" and "attempted terrorist murder," officials said.
No weapons or explosives were found in the person's home, which was raided by Belgian authorities Thursday, the office said. Further details about Faycal C. were not immediately available.
Police also carried out 13 raids in and around the Belgian capital on Sunday, taking nine people in for questioning, according to the Belgian Federal Prosecutor's office.
Five of those questioned were later released after "in-depth interviews," according to a statement. A magistrate will decided whether to keep the remaining four in custody, the office said.
Arrests have also taken place in other European countries. On Saturday, an Algerian national was taken into custody outside the southern Italian city of Salerno on suspicion of being part of a network producing fake residency documents linked to the Brussels attacks, the Italian National Police said.
The Algerian man was wanted in Belgium for his alleged involvement in clandestine immigration linked to the Paris attacks, police said via Twitter.
'Devastated infrastructure' at airport
Residents of Brussels are trying, against the odds, to return to some sense of normalcy in the wake of the attacks.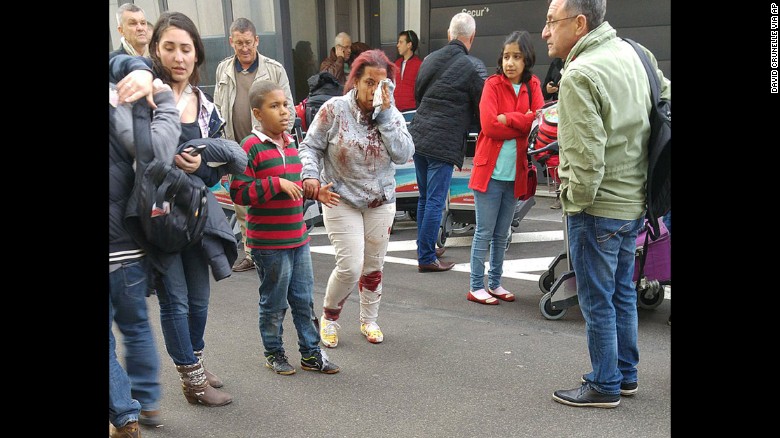 But the task is complicated by the continuing manhunt, complete with raids, gunfire, explosions and live news conferences.
And at the airport, where two bombings killed 14 people and significantly damaged the facility, officials said they're trying to get things up and running — but more work needs to be done. On Tuesday, hundreds of airport staffers will conduct tests of a temporary set-up for security screenings, checking in and checking luggage, the airport said in a statement Sunday. But it's too soon to say when the airport will reopen.
"The simple fact," the statement said, "is that a restart in the short term is not possible in the devastated infrastructure."
More victims identified
Authorities said 24 of the 28 deceased victims have been positively identified: 13 were Belgians, and 11 were foreigners from eight nationalities. More than 300 people were injured.
The death toll includes four Americans, a State Department official told CNN Sunday. Previously officials had confirmed that two Americans were among the dead.
U.S. President Barack Obama called the parents of Americans Justin and Stephanie Shults on Sunday to express his condolences, a White House official said.
As reported by CNN