Hundreds of Israelis attend the funerals of Avraham Goldman and Simcha Damri to pay their final respects to the Israeli victims of the terrorist attack in Istanbul.
Hundreds of mourners descended upon a Holon cemetery on Monday for the funeral of Avraham Goldman, a 69-year-old Israeli who was murdered in a terror attack in Istanbul.
His widow, Nitza Goldman, who was wounded, came from the Sheba Medical Center in Tel HaShomer in a wheelchair. "I don't want to say goodbye to you," she said, as tears fell down her face at her husband's grave. "How did this catastrophe happen to us? Take care of us from above, all of us. I do not want to recall what I saw. I saw everything."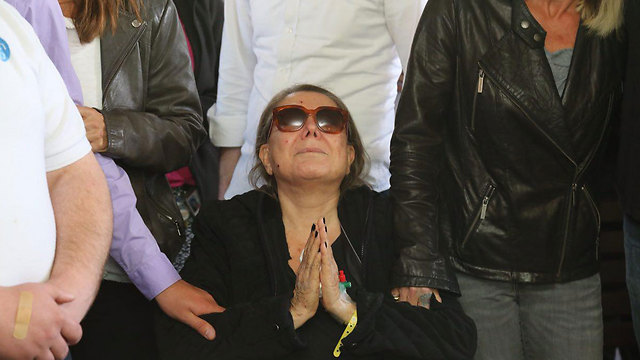 Her three children and many grandchildren cried and hugged each other. Nitza added on her way to the gravesite, "Avi, Avi, look how many people have come out for you. Do you see how many people love you? Avi don't go."
Sharon, Avraham's daughter, gave eulogy for her father: "Dad, you always celebrated in special places. Mom wanted you to change destinations, but you said there are attacks in Tel Aviv and New York and you were never afraid. I am sorry that you did not listen. My mind cannot comprehend what happened and my heart is broken to many pieces. I believe that only your physical body has departed from this world and your pure soul has returned home.
"You were always leading, even though you grew up in a complicated situation. With a father who survived the Holocaust, and a mother who was born in Gaza and fled to Jaffa. You loved Israel and became a tour guide. Your endless knowledge enchanted us and took us to see nature and this beautiful country. You built a wonderful textile factory with mom, employing Arab-Israelis and Palestinians from Gaza. You thought that this was the path to peace and coexistence, even during challenging times. We will not give in to hatred and revenge; we will not succumb to evil."
"Dad, for 50 years now that you and mom have been sharing your lives. Both of you are role models for a successful relationship. When you died, you protected mom with your body like a hero. We will be strong and will continue to observe the tradition that was so important to you," said Maya, another daughter of Avraham.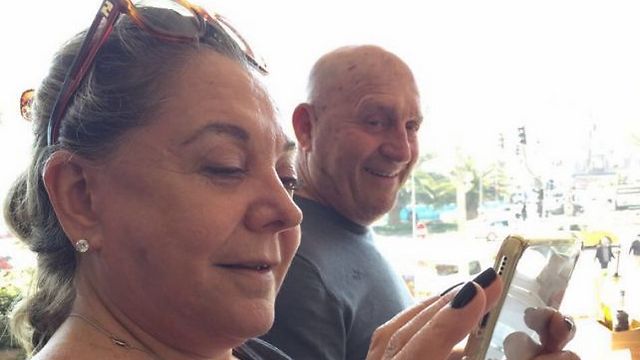 Goldman was also an American citizen. Dan Shapiro, the American ambassador to Israel, offered his condolences: "We emphasize the obligations of both nations to fight terror. We wish Nitza a full recovery. We will help with everything we can."
Earlier on Monday, Simha Damri, who was also murdered in the Istanbul attack, was brought to her final resting place in a Dimona cemetery. Avi Damri, Simcha's husband, was moderately wounded in the attack. He is still hospitalized and was not able to attend the funeral.
Adi, Simcha's daughter read aloud a message that her father wrote from his hospital bed. "I do not know what happened; I only know that the world was destroyed. We planned your 60th birthday. You have left many people behind including all the families and people in need, for whom you cared. Yochai, Nadav, Ben, and Adi (Simcha and Avi's children), I will be strong for you and I will take care of the whole family."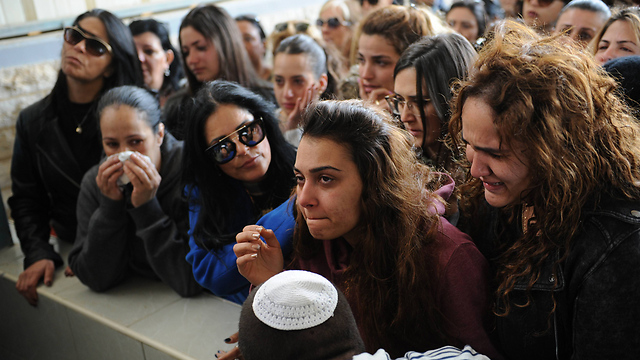 Nadav, Simcha's son, cried over his mother's grave, "My mom, my friend, my beloved. I do not know where to begin. This is very difficult for me. I do not wish for anyone to experience the phone call I received from my dad. He said, 'There was an attack; I am wounded and we cannot find mom.' This is where the nightmare began."
From the hospital, Avi said, "There was a great explosion and there were many horrific sights such as dismembered body parts. They took me to the hospital and I looked for my wife there. It seemed that the (authorities) already knew, but did not want to tell me.
"My kids informed me. The authorities left me in doubt for many hours. The Jewish community volunteered and tried to help a lot. I asked them before we boarded the plane to try to find Simcha's bag at the police station, but they were unable. Her things are in it including our passports, her necklace that I bought her and rings."
Deputy Minister Ayoob Kara said at the funeral, "I came to say in the name of the Israeli government that we will not rest; we will battle and destroy terror. We are doing a lot for Jews and Jewish communities in Arab states. There is no other path but to stand steadfastly against this cruelty which reminds me of a nation 70 years ago, which tried destroy another nation. I have no doubt that we will soon restore good relations with Turkey because of this blow. They now understand that terror not only affects Israel and the Jewish people."
As reported by Ynetnews