Hong Kong – For months, Republican frontrunner Donald Trump has repeatedly targeted China on the campaign trail, pledging to put tariffs on goods produced overseas and bring things like iPhone production back to the United States.
Trump has even used a broken-English accent at a campaign rally to mock the negotiating style of Chinese businessmen.
Beijing had previously downplayed any impact Trump's rhetoric could have on U.S.-China relations, reducing it as a mere "disturbance."
But this week, that all changed.
With Trump securing major victories on the road to the White House, China issued a scathing criticism of the U.S. election process and the candidate who has "opened a Pandora's box in U.S. society."
In an editorial published this week, China's state-owned Global Times newspaper condemns the billionaire candidate as "big-mouthed" and "abusively forthright."
The Global Times claims Trump was initially supposed to "act as a clown to attract more voters for GOP." Instead, it goes on to imply that the Republican party lost control of Trump — who has now become the party's worst nightmare.
Mussolini, Hitler, Trump?
The editorial also uses Trump's political rise to highlight America's decline and the failings of democracy, saying: "Mussolini and Hitler came to power through elections, a heavy lesson for Western democracy."
In its final paragraph, the Global Times warns that the United States should watch itself from becoming a global destructive force before pointing fingers at China for its "so-called nationalism and tyranny."
While a Communist Party mouthpiece uses the rise of Trump to condemn both him and Western-style democracy, survivors of the 1989 Tiananmen Square crackdown have quoted Trump to condemn his failure to stand up to the Chinese Communist Party.
During last week's CNN Republican debate in Miami, Trump called pro-democracy demonstrations a "riot."
Trump also said he believed the Chinese government had a "strong, powerful" response in ending the student protests on June 4, 1989.
Since those comments, Chinese dissidents have lined up to condemn him for supporting the bloody crackdown and to demand an apology.
In an article for TIME magazine, 1989 student protest leader Wang Dan denounces Trump for using the same language as the Communist Party.
"I am disappointed by and angry at Mr. Trump's words," he writes. "If a bloody repression can be praised as a 'strong, powerful' action, what does this mean about American values, especially when this blatant mischaracterization comes from a presidential candidate?"
Freedom fighter fears Trump
Fellow Tiananmen protest leader Wu'er Kaixi turned to Facebook to describe Trump as "an enemy of the values that America deeply defines itself by — the same values that have long provided hope to the victims of oppressive power worldwide."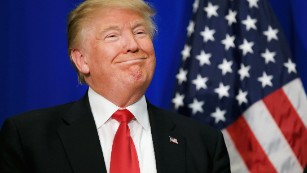 He goes on to say, "Those of us who have fought for freedom anywhere in the world worry that something is about to change in America."
But perhaps the most graphic criticism leveled at Trump is by the exiled political cartoonist Wang Liming, better known as Rebel Pepper.
Forced to live in Japan for his own safety, the cartoonist is well known for skewering China's elite.
In a cartoon released this week on his Twitter feed addressed simply "to Trump," Rebel Pepper portrays the American candidate as a tank commander brutally mowing down and crushing a protester while declaring, "This is the best thing we imported from China."
Poker face?
Trump's controversial remarks on China's past and present are no longer being ignored by China's dissidents or political establishment.
And yet despite his relentless attacks and steady political advance, Chinese premier Li Keqiang says relations between the U.S. and China will continue to develop no matter who wins the presidential race.
That's Beijing, putting on its best poker face.
As reported by CNN