Chief of Staff Gadi Eisenkot responds to reports that Israel plans to withdraw from Area A; he clarifies that talks are unconnected to political and diplomatic negotiations.
Amid reports that the IDF is having discussions with the Palestinian Authority Security Services (PSS) on a withdrawal of Israeli forces from Area A, Chief of Staff Gadi Eisenkot clarified on Tuesday that the talks were held among commanders on the ground rather than on the political level.
"The goal of the discussions is to strengthen the effectiveness of regional security while examining the possibility of decreasing the number of IDF incursions into Area A, Eisenkot told the Knesset Foreign Affairs and Defense Committee. "These discussions were preliminary and the IDF is not even currently located in Area A on a permanent basis and only enters for operational purposes. Similar discussions took place previously when I was in command of the Judea and Samaria Division. Thus, this is not a new idea. The IDF will preserve its full ability to act in Area A."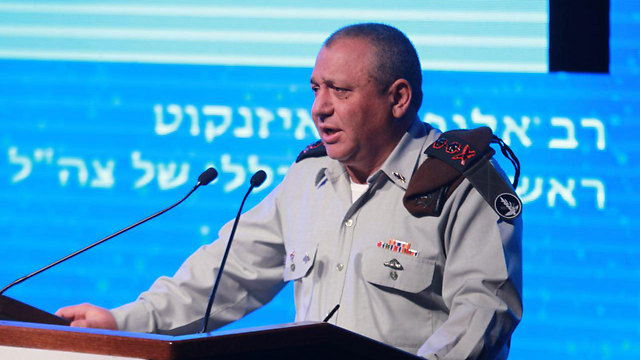 Eisenkot also said Military Intelligence issued a strategic warning at the beginning of 2015 regarding the possibility of instability in West Bank. "In accordance with this warning, we have assessed that the IDF has an operational and intelligence advantage and works without limitations. However, it is important to emphasize that it is not possible to warn (our) forces of every terrorist planning to carry out a stabbing attack," he said.
Eisenkot commented that the success of the Palestinian economy constitutes an important part of the effort to undermine the violence. "It would be a mistake to prevent Palestinians from working in West Bank settlements and industrial zones. Security cooperation between the IDF and the Palestinian Security forces is a shared interest of both parties," the chief of staff stressed.
Regarding Gaza, Eisenkot noted that the IDF views Hamas attack tunnels as its primary security concern. The IDF has invested great and many resources from a technological and operational standpoint to counter this threat. In the last decade, the IDF spent more than a NIS 1 billion to find a solution to the tunnels threat including NIS 500 million since the end of Operation Protective Edge in 2014.
As reported by Ynetnews