Talks come in light of the intensified Egyptian blockade over the Gaza Strip, accusations that Hamas was involved in assassination of Egyptian public prosecutor and that it was aiding jihadists in Sinai.
GAZA – Three senior leaders of Palestinian Islamist group Hamas travelled to Cairo on Saturday to try to repair relations with Egypt after years of tension.
The visit, which Saudi Arabia encouraged, comes a week after Egypt accused Hamas of involvement in last year's assassination of Public Prosecutor Hisham Barakat. Hamas rejected the claim as "politically motivated."
Egypt, historically the Palestinians' major backer, has brokered several truces between Israel and Gaza factions and tried to heal past rifts between rival Palestinian factions.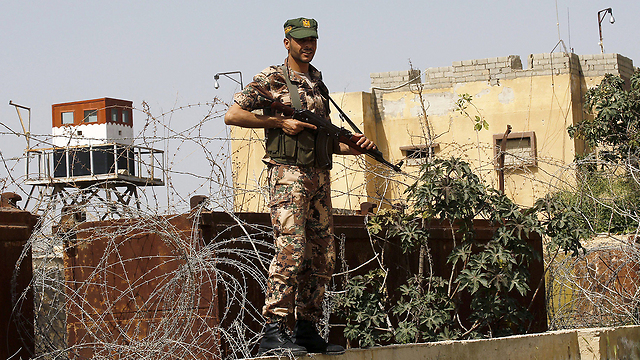 But it has intensified a blockade of Gaza by largely sealing the border since 2013, citing precarious security conditions in neighboring Sinai where Islamist militants have launched many deadly strikes on Egyptian soldiers.
The 12-member Hamas delegation headed for Cairo included three top figures, Mahmoud Al-Zahar, Khalil Al-Hayya and Imad Al-Alami. An Egyptian border official told Reuters they were escorted under heavy security.
Hamas spokesman Sami Abu Zuhri said the officials were hoping to turn a new page in relations with Egypt.
"Hamas stresses its interest in preserving the security and stability of Egypt and we are looking forward to a new era in relations," he said in a statement.
Egyptian and Israeli blockades of Gaza have made it difficult for goods and people to move in and out of the territory, increasing hardship for its 1.95 million people.
Hamas wrested control of the territory in a brief 2007 civil war with forces loyal to Western-backed Palestinian President Mahmoud Abbas, who holds sway in the West Bank.
Its relations with Cairo have worsened since 2013, when Egypt's army ousted Islamist leader Mohamed Morsi, the country's first elected president. Morsi's Muslim Brotherhood was Hamas's strategic ideological ally.
Some Cairo security officials have accused Hamas of aiding militants in Sinai, but Hamas leaders have repeatedly denied meddling in Egypt's internal affairs.
As reported by Ynetnews