A massive avalanche struck Saturday morning in the Italian Alps, sweeping away and burying about a large group of people — killing at least six of them, state news reported.
The snow and ice began crashing down Monte Nevoso, or Snowy Mountain, around 11:15 a.m. (5:15 a.m. ET), according to Italy's official ANSA news agency.
At the time, more than a dozen people were at more than 3,000 meters (9,840 feet) altitude, on their way to the summit of the second-highest mountain in Vedrette di Ries, a mountain group not far from Italy's border with Austria near Val Pusteria (or Puster Valley).
Some managed to dig themselves out from snow, with ANSA reporting one wounded and eight people total rescued. But at least six — five locals from Val Pusteria and an Austrian citizen — did not survive.
"If an avalanche (occurs) up there," said Hans Berger, a local politician familiar with the area, "whoever is beneath it doesn't have an escape, and can be covered by several meters of snow."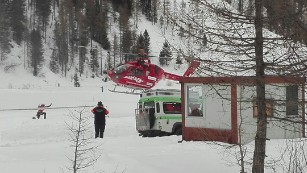 The steep terrain and dangerous conditions — the avalanche risk was a 3 on a 1-to-5 scale, 5 being the most dangerous — challenged those trying to help survivors and search for others. ANSA noted that helicopters flying to the area, carrying rescuers and rescue dogs have to be especially light to land safely.
Ultimately, about 100 rescue personnel did make it to the scene, coming in and out in four helicopters.
Saturday's avalanche comes just over a month after five people, who were among two groups of Czech skiers, died in an avalanche not far away in western Austria.
Four more suffered injuries in that incident in Wattener Lizum, which is about 15 miles (25 kilometers) southwest of Innsbruck, said Helmut Schutz, a spokesman for police in Tirol state.
And in January, a 16-year-old girl and a 14-year-old boy were among three people killed in another Alps avalanche, this time in an off-limits area of France's Les Deux Alpes ski resort.
A schoolteacher who went with those students onto that closed slope faces charges of involuntary manslaughter, a prosecutor later announced.
A Ukrainian skier, who appeared to be alone, also died.
As reported by CNN