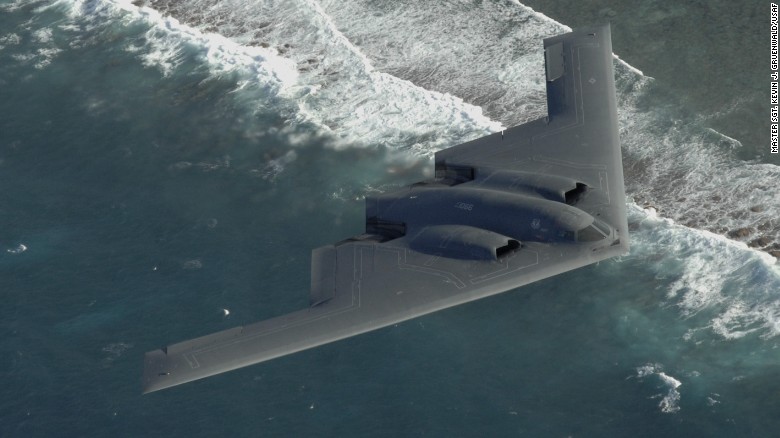 The U.S. Air Force has sent three of its B-2 stealth bombers on a deployment to Asia and Pacific, the service announced in a press release Wednesday.
The $1.15 billion bombers, which operate out of Whiteman Air Force Base in Missouri, "will integrate and conduct training with ally and partner air forces, and conduct a radio communications check with a U.S. air operations center," said a release from U.S. Strategic Command.
The deployment comes amid heightened tensions with North Korea, which tested two short-range missiles on Thursday and earlier this week claimed it has miniaturized nuclear warheads to fit on ballistic missiles. North Korea's actions come as U.S. and South Korean forces conduct annual military drills involving thousands of troops.
It also comes at a time of tensions with China as Beijing asserts its claims over disputed areas in the South China Sea by building infrastructure, including harbors and airstrips on islands in the sea and upping its military presence.
"Recent events demonstrate the continued need to provide consistent and credible air power throughout the Indo-Asia-Pacific region," the commander of U.S. Pacific Air Forces, Gen. Lori J. Robinson, said in the press release.
"Strategic bomber deployments ensure our ability to project power at a time and place of our choosing and develop strong interoperability with our regional allies and partners," Robinson said.
During an appearance in Australia on Tuesday, Robinson called on that country and others in the region to assert their rights to fly over the South China Sea.
"We would encourage anybody in the region and around the world to fly and sail in international air space in accordance with international rules and norms" the U.S. general was quoted as saying by Australia's ABC News online. "We would encourage all nations in the region to do just that, just as the United States is doing."
Earlier this month, the U.S. Navy sent the aircraft carrier USS John S. Stennis and its strike groupinto the South China Sea, where Chinese ships operated close by, according to the carrier's commander.
The Air Force did not say where in the Asia-Pacific region the three B-2s would be operating or how long they would stay in the region.
B-2s have made deployments to Andersen Air Force Base on the Pacific island of Guam in recent years, including last August. And in March 2013, a B-2 flew from Missouri and dropped inert munitions during training exercises over South Korea.
The U.S. Air Force has 20 B-2 bombers in its fleet. The four-engine bombers are flown by a crew of two pilots and can carry both conventional and nuclear weapons. They became operational in 1997.
As reported by CNN