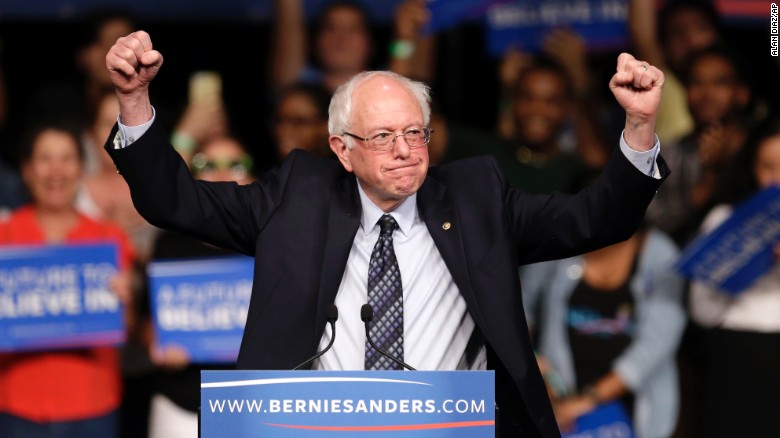 Washington – Bernie Sanders won the Michigan Democratic primary, CNN projects, in an upset that delivers a sharp blow to Hillary Clinton's hopes of quickly securing her party's nomination.
Sanders' victory, on the eve of the next Democratic debate clash that will be simulcast on CNN, raises fresh questions about the former secretary of state's appeal to blue-collar Democrats who have embraced the Vermont's senator's populist anti-Wall Street message.
Although Sanders did little to cut into Clinton's overall lead of about 200 delegates, thanks to her win Tuesday in Mississippi, his performance in Michigan suggests Sanders could mount a stronger-than-expected challenge in looming primaries in a string of Rust Belt states, including Ohio, Illinois and Wisconsin.
On the Republican side, Donald Trump won the Hawaii caucuses, CNN projected. He also won Republican primaries in Michigan and Mississippi, important victories that propel him closer to the nomination despite a week of fearsome barrage of attacks from his rivals and the Republican establishment.
Sen. Ted Cruz won the Idaho Republican primary, according to a CNN projection.
But the big surprise of the night was in the Democratic race.
5 takeaways from Tuesday's primaries
While the Michigan defeat won't dent Clinton's overall advantage in the delegate race, it's an embarrassing speed bump in her efforts to pull away from Sanders and turn her fire exclusively on the Republicans. She will now look to big state contests next Tuesday in Ohio, Florida, North Carolina and Illinois to restore her momentum.
Sanders acknowledged that the Michigan vote was close, but thanked voters for "repudiating" polls that indicated Clinton had stronger support in the state.
"What tonight means is that the Bernie Sanders campaign, the people's revolution that we're talking about, the political revolution that we're talking about, is strong in every part of the country," Sanders said. "And, frankly, we believe our strongest areas are yet to happen."
Even the Sanders camp appeared to be surprised by the victory, as the candidate held a rally for supporters in Florida hours before his victory was confirmed.
"We didn't know at the end whether we were going to get over the hump or not," Sanders campaign manager Jeff Weaver told CNN. He predicted that with most Southern states now out of the way, the calendar was turning in favor of the senator.
The Clinton campaign put a brave face on the defeat, by about two percent of the vote, after earlier warning that the race was much closer than polls that gave Clinton a big lead suggested.
Clinton communications director Jennifer Palmieri said their strategy "is built around accruing delegates and we will come out on top on delegates."
Even though she lost Michigan to Sanders, Clinton actually won more delegates on the night, according to a CNN estimate, picking up 84 to Sanders' 67. She now has 1,234 of the 2,383 delegates needed to win the nomination. That figure includes super delegates, party officials and officeholders who have said they will back her.
Sanders has 567 delegates overall.
Clinton team shaken by close race
The former first lady and her rival have clashed repeatedly in recent days over issues that are vital to Michigan voters. Clinton hammered her rival over a vote against a bailout for the U.S. auto industry in 2009, while the senator lambasted her over her past support for free-trade deals that he said sowed ruin in the Midwest.
"What these trade agreements have done is decimate community after community in the Midwest and all over America," Sanders said in the state on Monday. "I have helped lead the opposition to every one of these disastrous trade agreements," he said, "because I knew what they would do."