Two terrorists try to run over policemen and civilians at the Jerusalem light rail's stop near the Damascus Gate. Whille trying to shoot at police, police shoot and kill them. The wounded man is a Palestinian, about 50 years old, from East Jerusalem.
A Palestinian civilian was seriously wounded in a combined vehicular and shooting attack near Jerusalem's Damascus Gate.
Two terrorists from Kafr Aqab in East Jerusalem tried to run over policemen and civilians near the Jerusalem light rail's stop nearby.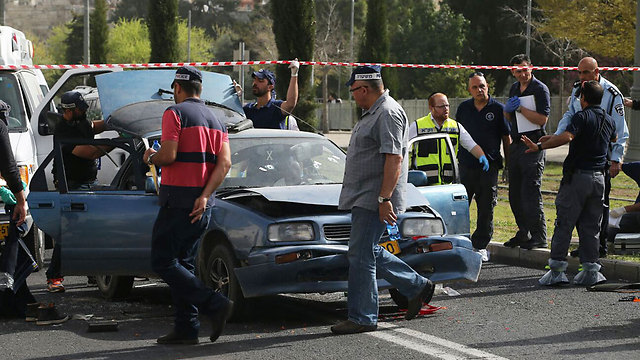 Police identified the terrorists, shot and killed them.
Magen David Adom's spokesman said that paramedics treated a man about 50 years old who was seriously wounded in his upper body. He was sent to Hadassa Medical Center in Jerusalem. The wounded man is a Palestinian from Beit Hanina who was in his vehicle on his way to Jerusalem's city center.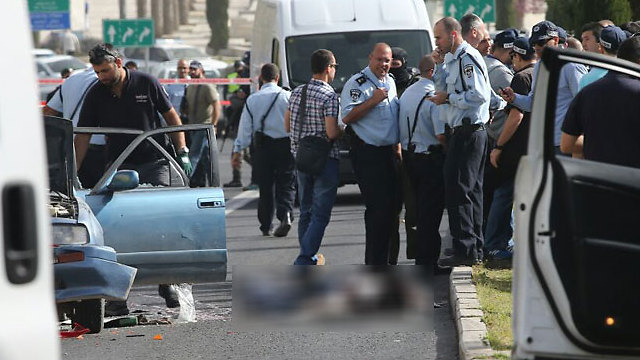 According to the police, people traveling on a bus on Sderot Golda Meir in Jerusalem spotted two suspects with weapons and heard shooting.  A citizen who noticed the commotion stopped his car and ran towards the bus and fired a single bullet at the two suspects who fled. No one was injured on the bus. Due to a report of the fleeing, blockades were set up and police began an extensive search. While searching, a police officer spotted the vehicle. The terrorists in the vehicle pointed makeshift Carl Gustav submachine guns at the officer who shot at the terrorists. Other policemen then also shot at the terrorists and they were killed.
This attack comes on the heels of several terror attacks on Tuesday.  In a stabbing attack in Jaffa, 28-year-old American tourist Taylor Force was killed. Eleven others were wounded in that attack, one seriously.
As reported by Ynetnews