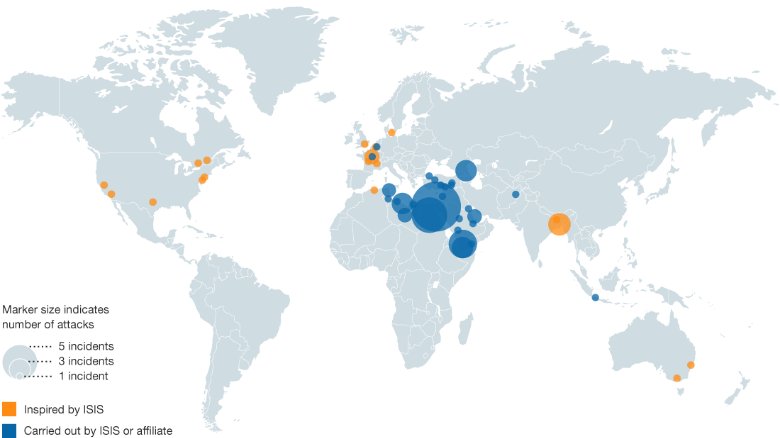 London – British police are preparing for "enormous and spectacular" potential attacks on the UK as ISIS moves into its "next natural phase," Britain's senior counterterrorism officer said Monday.
Mark Rowley, assistant commissioner of London's Metropolitan Police, said that in the wake of the Paris terror attacks, ISIS had moved on from a "narrow focus on police and military as symbols of the state, to something much broader."
"You see a terrorist group that has big ambitions for enormous and spectacular attacks, not just the types that we've seen foiled to date," he said, citing as another example the downing of Metrojet Flight 9268.
ISIS claimed responsibility for the bombing of the jet over Sinai in October. All 224 people on board — most of them Russian — were killed.
Rowley also mentioned the need for investigators to guard against terrorist attacks like the recent explosion aboard a Somali passenger plane flying above East Africa. The suspected bomber was blown out of the plane and died and two others were injured in that attack, for which the jihadist group Al-Shabaab took responsibility.
In another high-profile terrorist attack, an ISIS cell of gunmen and suicide bombers carried out the massacre in the French capital in November, killing 130 people as they attacked venues including a concert hall, restaurants and a sports stadium.
Rowley's comments came at a media briefing. A police press officer later said that Rowley was speaking about a general threat profile, and not on specific intelligence on a known terror plot.
ISIS, a Sunni terror group, controls territory in Syria and Iraq where it has declared a so-called Islamic caliphate.
It regularly carries out terror attacks in those countries, and has conducted or inspired more than 70 terrorist attacks in 20 other countries as well. The group has called on sympathizers worldwide to attack non-Muslims.
As reported by CNN