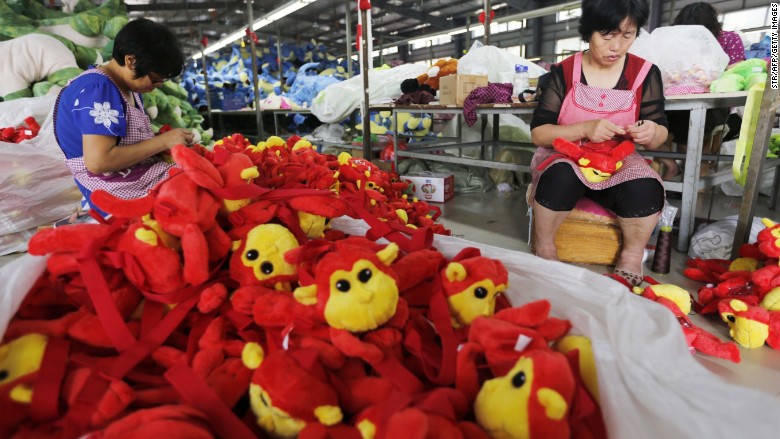 Chinese factories are losing more steam. Manufacturing activity slumped again in February, the latest sign that the world's second-largest economy is continuing to cool down.
The official purchasing managers' index hit 49 in February, down from 49.4 the previous month, the National Bureau of Statistics said Tuesday. Any number below 50 represents a deceleration in the manufacturing sector.
A separate survey conducted by Chinese media group Caixin showed manufacturing PMI slid to a five-month low of 48 in February, down from 48.4 in January. The index has now been below 50 for a full year.
The official government manufacturing gauge is heavily weighted toward large enterprises, while the private Caixin survey taps a smaller sample size and places greater emphasis on smaller firms.
While economic data out of China around this time of year usually reflects seasonal fluctuations because of a major annual holiday, the weak February manufacturing figures underline concerns over the country's economy.
For years, the Chinese economy was fueled by investment in infrastructure and exports of manufactured goods around the globe. But China is now posting its weakest annual economic growth in 25 years.
Beijing is trying to reconfigure the economy to rely more on Chinese consumers, shifting emphasis to the services sector and away from factory floors.
The slowing growth has dampened China's huge need for commodities, hurting global prices.
Layoffs are also looming in some sectors inside China. The government announced Monday it plans to cut 1.8 million coal and steel jobs, although it didn't announce a time frame.
Chinese policymakers are facing the tricky task of steering the vast economy through a period of uncertainty. Money has already been pouring out of China in recent months, putting pressure on the country's currency.
On Monday, the Chinese economy expanded its efforts to stimulate the economy by cutting the amount of cash banks are required to keep on reserve. The hope is that banks will pump more money into the economy.
Stocks in Shanghai swung between small gains and losses on Tuesday morning.
As reported by CNN