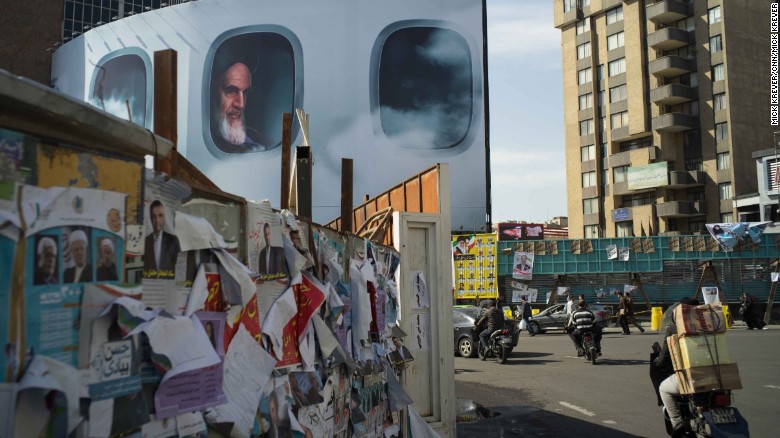 Tehran, Iran – Preliminary results in Iran's first major election since last year's landmark nuclear deal show moderates making a strong showing in a high-stakes ballot that could shape the future of the country and its relationship with the West.
Voters cast ballots Friday for members for parliament as well as a powerful clerical body — the Assembly of Experts, the committee of clerics that chooses the Islamic Republic's supreme leader.
Iran's Interior Ministry said with about one-third of the votes counted in Tehran, reformers were leading the parliamentary elections. Preliminary results show reformists are poised to take all 30 seats up for grabs in Tehran, the ministry said. The reformist candidates are overwhelmingly loyal to Rouhani.
Results from outside Tehran also indicated a strong showing by moderate candidates.
In one significant result, former President Akbar Hashemi Rafsanjani and President Hassan Rouhani, both reformists, were in the top two spots for the Assembly of Experts in Tehran as of Saturday afternoon.
Rafsanjani called for national unity following the divisive vote, according to Iran's state-run news agency, IRNA.
"The competition is over and the era of unity and cooperation has arrived," Rafsanjani said, according to IRNA. He said he hoped the final results would promote Iran's position in the region and across the globe.
"In the current highly sensitive situation in the region (where) insecurity has engulfed some countries, the lively holding of the elections of the Assembly of Experts and Majlis (parliament) in a completely calm and orderly atmosphere can serve as a model of democracy for nations," Rafsanjani said.
The Interior Ministry said final results will be declared Tuesday.
Interior Minister Abdolreza Rahmani Fazli said Saturday that some 33 million people — nearly 60% of eligible voters — turned out in the twin elections.
More than 4,800 candidates, including about 500 women, competed for a place in the 290-seat parliament, according to Iran's Press TV.
A total of 159 others were running for the 88-member Assembly of Experts.
Members of the Assembly serve eight-year terms, while members of parliament are elected every four years.
Assembly of Experts and the Ayatollah
Both the elections are equally important for Iran and its people, said Reza Marashi, research director at the National Iranian American Council, a nonpartisan, nonprofit organization promoting greater understanding between Americans and Iranians.
"In the short term the parliamentary elections will impact Iran's economic policies. But for the long term, this assembly could elect the next supreme leader, which has greater long-term implications for Iran and its people."
Supreme Leader Ayatollah Ali Khamenei is 76 and has been rumored to be ill. If he were to die in the next eight years, the Assembly of Experts voted into power will select the next supreme leader.
Referendum on Rouhani
In many ways, this election is seen as a referendum on President Rouhani, a moderate who campaigned on a reformist platform before his 2013 election.
Rouhani follows Mahmoud Ahmadinejad into office. The 2009 election in which Ahmadinejad won a second presidential term was widely believed to be rigged and sparked major protests in Iran.
During his two and a half years, Rouhani, a former nuclear negotiator, was instrumental in signing a deal that limited Iran's nuclear program in exchange for sanctions relief.
"In this campaign Rouhani and his coalition have been saying that the nuclear deal was first step to economic and political dignity, and that these elections were the next step," said Marashi of the National Iranian American Council.
"If the election is favorable to Rouhani, it becomes his responsibility to fulfill campaign promises."
One of Rouhani's vice presidents told CNN earlier that a win for the Rouhani camp would help them continue their course.
"If we have a parliament in our favor we could do a lot to make Iran a strong player in this region and to continue to foster relations with the West," said Masumeh Ebtekar.
If more hardliners are elected, relations could regress to stalemate days, putting in jeopardy much of the recent progress, such as the nuclear agreement.
Tough Campaign
Campaigning in Tehran was fierce, with candidates' billboards vying for attention, and with activists from both sides flocking to the streets.
A month before the election, many pro-reform candidates who might support Rouhani and his more moderate agenda were disqualified from participating. Thousands of candidates were blocked from running by an unelected, conservative 12-member group called the Guardian Council.
Some have even deemed the election as the most important non-presidential race since the Islamic Revolution in 1979.
Many Iranian youths favor Rouhani, and that demographic group's support is critical, as more than 60% of Iranians are under the age of 30, according to World Bank figures from 2013. Youth unemployment and underemployment have been significant issues for young people.
While many young people say life has improved under Rouhani, conservatives express concerns about Western influence in the country. They accuse reformers of selling out to the West and have alleged foreign interference in the election. "Death to America" chants are still common.
Many Iranians hope the elections will lead to a better future.
"After these elections there will be a more diverse range of voices, and that will better reflect the will of people," said Marashi of the National Iranian American Council. "It's not perfect, but will be better."
As reported by CNN