Canberra miffed after Putin's request for a work meeting prompts Foreign Ministry to recommend that President Reuven Rivlin cancel his Australia trip.
President Reuven Rivlin decided Thursday to cancel a state visit to Australia and fly instead to Russia to meet up with Russian President Vladimir Putin.
Canberra responded angrily to the president's decision, saying that "this is not the way one behaves with a friendly country. We are very disappointed and angry." However, it should be noted that the security establishment determined there was an urgent need for a Rivlin-Putin meeting.
The president's state visit in Australia was scheduled for the middle of March. The countries had already held preparatory meetings, but then Putin invited Rivlin for a work meeting on the same exact dates.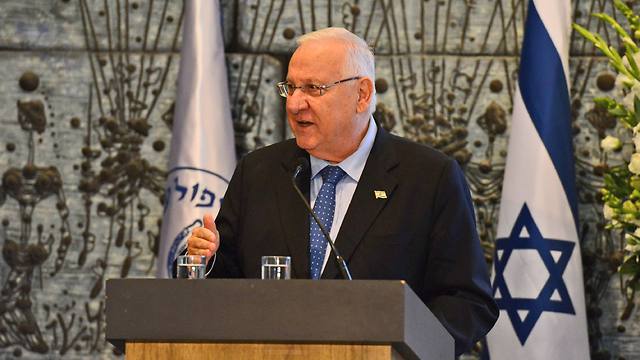 Rivlin hesitated over what to do, taking into account the fact that the Australians would be offended, and chose to pass the decision onto the Foreign Ministry. Foreign Ministry officials consulted with various parties, including Prime Minister Benjamin Netanyahu in his capacity as foreign minister, and they came to the decision that at this time and in light of regional developments, one doesn't say no to Putin.
The Foreign Ministry recommends the president's state visits every year. This year they recommended, among others, Australia and Russia. Israel originally suggested to Australia that Rivlin's visit take place on March 17-22. The Australians checked the dates and two weeks ago gave the green light for the meeting. Australia's governor general canceled a trip out of the country so that he could meet Rivlin, and other senior ministers changed their schedules as well. The Australian Jewish community also prepared various events to be attended by Rivlin.
The decision to cancel the trip to Australia was greeted with a heavy heart at the President's Residence, but considerations behind the scenes prevailed. Consultations between the Ministry of Foreign Affairs and the Prime Minister's Office took into account a defense establishment position that there is an urgent need for Putin and Rivlin to meet. In addition, the subject of Netanyahu's Wednesday phone conversation with Putin came up in the consultations.
An official source said that there government has much respect for the Australians, but that there are many sensitive security issues regarding Russia that make a visit with Putin more critical. "The area is burning and Russia is a superpower that has decided to actively intervene, and coordination with Israel is a vital matter," said the source.
Australia expressed dissatisfaction following the president's decision. A senior Australian official said: "We were really looking forward to this visit. It was supposed to be the third visit of an Israeli president since the founding of your country. Elections will take place in Australia this year and therefore it will be very difficult to set up another date for a visit. We did a lot to facilitate the visit and ensure it would happen. Israel suggested the dates. So there is disappointment and anger."
As reported by Ynetnews