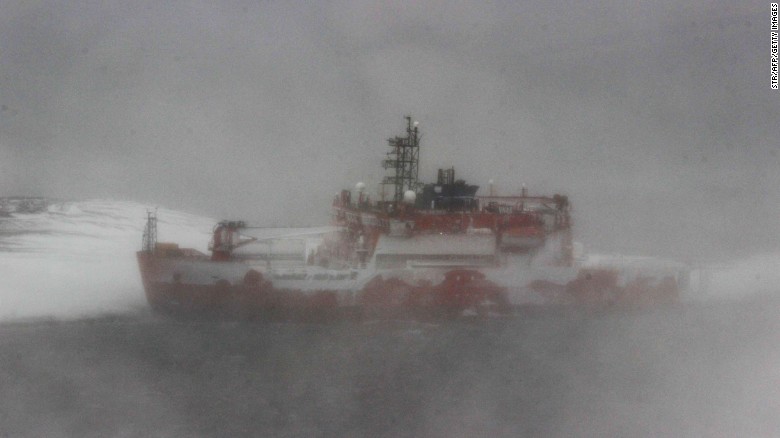 It's bad enough being stuck in a blizzard. It's worse when you're on a ship that has run aground. But it's a whole new level of distress when that ship is stuck during a blizzard in one of the world's most remote locations, Antarctica.
Two years after coming to the rescue of dozens similarly stranded on a Chinese ship off Antarctica, the Aurora Australis has found itself in rough, icy waters in the same general region.
The good news Thursday is that all 68 expeditioners and crew aboard the grounded icebreaker ship are "safe and well," according to the Australian Antarctic Division, a government agency that conducts Antarctic research. Even better, there's a plan in the works to help them.
The Aurora Australis was resupplying at Mawson station — one of the research centers on the icy, expansive continent that's home to the South Pole — when it "broke free of its mooring lines" during a blizzard Wednesday morning, the Australian government said. The vessel then ran aground at West Arm in Horseshoe Harbor.
The episode occurred at the tail end of summer in Antarctica, though that doesn't mean anyone in their right mind would be lounging beachside in their bathing suits. To the contrary, high temperatures maxed out Thursday at 22.6 degrees Fahrenheit (-5.2 Celsius), though wind chills were appreciably lower.
Blizzard conditions yesterday evening at Mawson station. Updates: https://t.co/2Ly7Pzqw7Q pic.twitter.com/XmlqY8kfD2

— Antarctic Division (@AusAntarctic) February 25, 2016
The cold wasn't so much a problem as were snow and winds, steady at 80 mph (130 kph) and gusting up to 112.5 mph, according to Australia's Bureau of Meteorology.
U.S. to help fly expeditioners out from Antarctic station
The Aurora Australis suffered a breach in its hull after running aground. Yet Australia's government insisted this breach "poses no risk to the stability of the vessel or of fuel leaking into the environment."
At some undetermined point, after the weather improves and experts do a full assessment of the ship, the Aurora Australis should be refloated.
Thankfully, though, many of those on board won't have to wait until then.
According to the Australian government, "Expeditioners on the ship will be transferred to Mawson research station when the conditions ease." The expectation is that the blizzard will pass Thursday night.
Meanwhile, Australia has enlisted the United States' help to move more than 30 expeditioners who have been waiting at the Davis research station for the summer months, when an icebreaker could bring them home.
"In the coming days," an American LC-130 aircraft will fly them to Casey research station, where an Australian A319 Airbus will fly them off the continent.
As reported by CNN