Defense Minister in Cyprus, signs Status of Force agreement to deepen bilateral defense ties.
Defense Minister Moshe Ya'alon paid a working visit to neighboring Cyprus on Wednesday as the guest of Cypriot Defense Minister Christoforos Fokaides. During the visit, Ya'alon issued a stark warning about Iran's regional aggression, adding that Tehran is constantly seeking to arm Hezbollah, and that Cypriot security forces have in the past year foiled an Iranian-Hezbollah attempt to set up terror cells on the island.
He also described the chaos in Syria and the region as a kind of a third world war in which cultures and powers are clashing.
The two defense ministers signed a Status of Force Agreement to deepen cooperation between the IDF and the Cypriot military, and discussed bilateral defense cooperation.
"The State of Israel views Cyprus as a true friend. Relations between the defense establishments, militaries, and intelligence communities go back years, are deep, and important. My arrival here symbolizes that," Ya'alon said.
The SOFA agreement with Cyprus, alongside close ties "with our good friend, Greece," is vital for all states, he added.
Both Israel and Cyprus face many challenges in the Middle East, and both look east and west, "at the difficult sights in Syria, Iraq, and other states in the Arab world," Ya'alon stated.
"Syria has turned into a playground in which powers play, as do terror organizations and the states that activate them. The situation is chaotic, not only in Syria but in other states in the Middle East, and it influences not only the area, but the whole of Europe, the Defense Minister said.
"We are in the midst of a war between cultures. In a certain sense, this is a third world war, in a different manner from what we have known," he added.
Any state in the Middle East prepared to help in stabilizing the situation will find "a partner in us, including states we have no relations with," Ya'alon said.
The war in Syria is producing refugees fleeing for their lives to the West, but also allows murderous, relentless terror groups, some belonging to the global jihad, and some operating under Iranian sponsorship, to arise, he warned.  Ya'alon said Western states, including Cyprus, have to deal with attempts to pull off severe attacks along their borders and within them.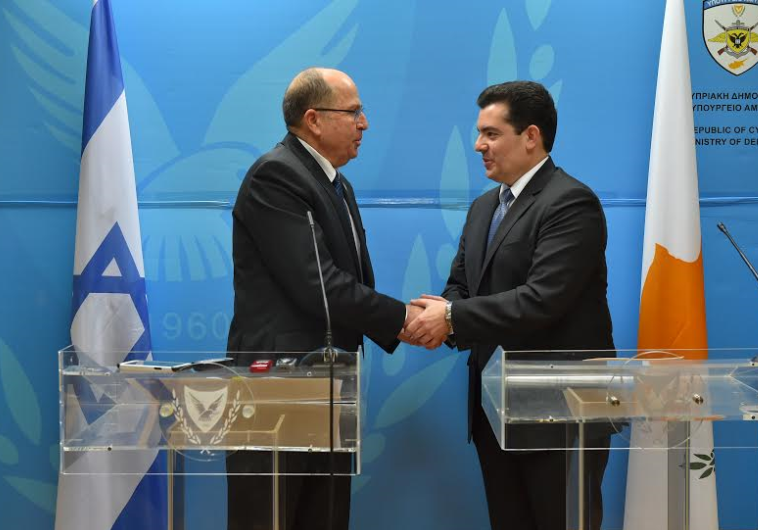 "The Iranian regime, through the proxies it trains, funds, and arms, is trying to undermine stability in the Middle East and beyond. It attempts to spread the revolution, and stops at nothing, including ambitions to build a dangerous axis, which starts in Tehran, moves through Baghdad, Damascus, Beirut, Sana'a, and other regional states," Ya'alon said.
Sanctions relief from the nuclear deal means the Iranian regime will develop and purchase more weapons, including fighter jets, missiles of various types, and weapons that will endanger the whole of the area, including Israel, he cautioned.
"Thus, the Iranian appetite to arm terror organizations that obey them, including Hamas and Hezbollah, will grow. The Iranians are trying to arm Hezbollah all of the time, including attempts that have occurred recently," he said.
The IRGC has sleeper cells that are stockpiling arms, knowledge, and operatives, preparing for the day they receive an order to attack, including in Europe and America, he said.
"The Western world must act with determination against the threat, since this common threat, whose values and ways are the opposite of ours, strives to disrupt our lives and create a reality we must not agree to."
In the past year, Cypriot security forces have, with great professionalism, foiled a Hezbollah and Iranian terror cell in their country, Ya'alon said. He said the cell was aimed at sending terror cells throughout Europe.
As reported by The Jerusalem Post