Kenyan president's visit prompts reaffirmation of military and intelligence ties; Netanyahu says 'Israel is a unique partner against this extremism'.
Israeli Prime Minister Benjamin Netanyahu on Tuesday pledged his country's cooperation with African nations against terrorism as he met Kenyan President Uhuru Kenyatta.
"Israel is willing and prepared to work with African countries in our common battle against militant Islamic terrorism," Netanyahu said as he went into talks with Kenyatta, whose country has long been a strategic ally of Israel.
"I have to say that more and more African countries recognize what you recognize — that Israel is a unique partner against this extremism".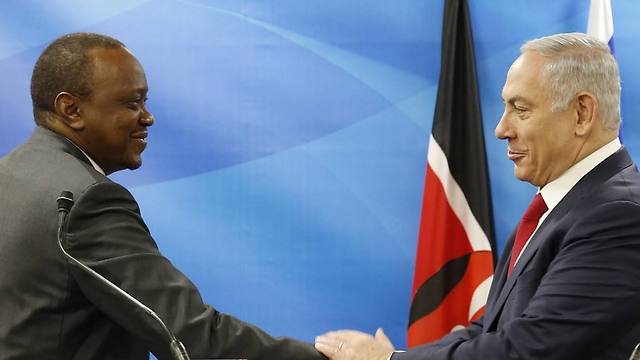 The Kenyan leader said "we both live in challenging neighborhoods with similar security concerns and the cooperation between our two governments since the time of our independence has been formidable".
He said he hoped his visit would further strengthen ties with Israel.
The United States, Britain and Israel have all had close military and intelligence ties with Kenya.
Israel reportedly warned of plans to attack Israeli property ahead of the 2013 massacre at Nairobi's Westgate mall. The mall was part owned by Israelis and had long been considered a prime potential target.
Israeli agents reportedly assisted Kenyan security forces in their response to the mall attack by Shebab gunmen who killed at least 67 people.
Israeli businesses in Kenya have been targeted in the past, including the Al-Qaeda claimed bombing of an Israeli-owned hotel in Mombasa in 2002, in which 18 people died, as well as a failed missile strike on an Israeli charter plane at the same time.
As reported by Ynetnews