Foreign Ministry hosts delegation of four Arab journalists who live in Europe as part of a new initiative to reach out to the Arabic-speaking world.
The Foreign Ministry hosted a delegation of Arab journalists who live in Europe in an effort to change negative coverage of  Israel.
"The visit to Israel was exciting and unique. It is a shame that most people in the Arab world are still filled with blind hatred and prejudice toward Israel," said G.M., an Iraqi journalist living in exile in Germany.
The four journalists, of Iraqi, Syrian, and Egyptian descent, write from Europe for a variety of Arabic-language news outlets, including Al-Sharq Al-Awsat, Sky News, the BBC Arabic, Deutsche Welle Arabic, and Kitatbat.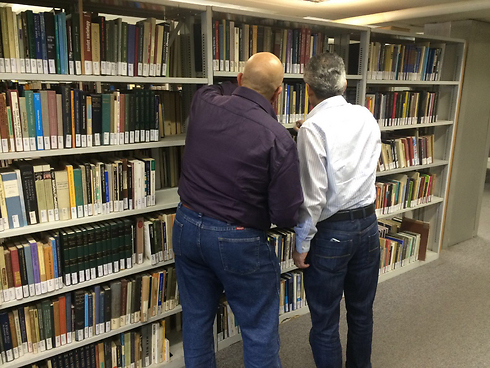 They asked that their identities not be revealed because if it became known that they visited Israel, they would not only be risking their job, but also their lives.
The Foreign Ministry's hasbara (public relations) department has significantly increased its work in the Arabic-speaking world, launching an Arabic-language Facebook page that has garnered more than 750,000 followers, where they've been posting short videos that have surpassed 1 million views. Dore Gold, the director general of the Foreign Ministry, has also given interviews to Arab media.
During their stay in Israel, the journalists visited the Holocaust Museum Yad VaShem, the Kneesset, the Supreme Court. They also toured Jerusalem, met with members of Knesset, the Foreign Ministry, and Israeli journalists.
"The visit presented them with the complex reality of the region from the Israeli perspective, providing concrete and direct examples," said Hassan Kaabiah, deputy spokesperson of the Foreign Ministry, who accompanied the delegation.
"Our exposure to Israel is welcomed," said one journalist. "We can argue about things, including the Palestinian issue, but we must not fall into the trap of hatred and incitement. This visit to Israel changed the way we think about all of you."
"The visit afforded us with a deep understanding of the State of Israel," another journalist said. "We saw official representatives, spoke with ordinary Israelis on the street and learned things we did not know before. We also learned about the social, cultural, ethnic, and religious structure of Israel and how it is a pluralistic state. This trip undoubtedly will allow us to convey a different image of Israel to our readers. Would that this could lead to reconciliation between the nations."
Foreign Ministry spokesperson, Emmanuel Nahshon concluded, "Of all the delegations the Foreign Ministy has hosted, the Arab journalist delegation is the most important. From our point of view, dialogue with the Arab world is a top priority. We hope that more delegations will arrive soon."
As reported by Ynetnews