Houston Chabad rabbi helps Jewish prisoner on death row put on tefillin and perform a Bar Mitzvah; the rabbi says, 'When he saw that I brought him tefillin, he smiled and believe me, no one on death row smiles'
Yadidya Marfi, who has been waiting for 15 years in a Livingston, Texas prison for the implementation of his death sentence.
In October 2000, Marfi shot and killed a 79 –year-old women, when he was high on cocaine. He then stole her car and used her credit card to buy cigarettes and alcohol. A year after later, at the age of 25, he was sentenced to death. His case has since been stuck in appeals courts and he still has not received a date for the implementation of his death sentence.
Marfi is being held in a cell for those on death row, which means his activity and movement are heavily limited. For example, he is forbidden from directly receiving visitors and can only meet them through a glass pane.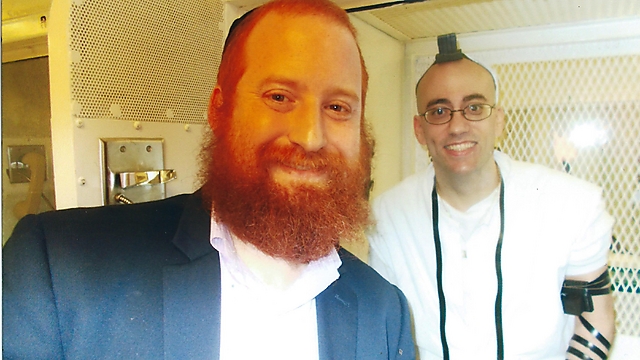 A few months ago, Rabbi David Goldstein, a Chabad Rabbi based in West Houston, and the Texas prisons' rabbi, visited him. Rabbi Goldstein works with 60-120 Jewish prisoners in Texas prisons including some who merit the right to kosher food and weekly lessons.
Marfi told the rabbis about his difficult childhood and how he was abandoned by his Jewish parents and was instead raised by his grandparents. However, when his grandparents were no longer able to care for him, he was sent to a foster home.
He also told the rabbis that he never had a Bar Mitzvah and has been begging prison authorities for 15 years to allow him put on tefillin to no avail.
Rabbi Goldstein intervened on Marfi's behalf with prison authorities for an exception and three months later, they decided to allow him to perform the religious ritual.
A short time later, Rabbi Goldstein came to the prison and handed the prison guards tefillin and a yarmulke, who then gave them to Marfi. Through the glass pane, he guided the Jewish prisoner through how to put on tefilin. In addition, he also brought wine and light refreshments in order to hold a small Bar Mitzvah celebration. The rabbi said that when Marfi put on tefillin and read the blessings, he became very excited. At the end of the ceremony, they raised glasses, said l'chaim, took pictures through the glass.
This is the first time that Rabbi Goldstein has helped a prisoner perform a Bar Mitzvah, but he had once helped another prisoner put on tefillin. Douglas Feldman, a 55-year-old prisoner, was executed in 2013 by lethal injection because he committed homicide twice. But his final request before being executed was to put on tefillin.
The Chabad Rabbi has a long history in helping Jewish prisoners achieve their rights. "My goal is to strengthen their souls," he told Ynet. "It took me three months to do everything to arrange for Marfi's Bar Mitzvah."
He added, "When he saw that I brough him tefillin, he smiled. And believe me, no one on death row smiles. After the ceremony, Marfi asked the prison guards if he could keep the yarmulke, but they refused and yarmulke was taken from him."
As reported by Ynetnews