Under Russian air cover, regime troops are not only advancing in northern Syria, they have been making gains in the south too.
After weeks of raging battles, late last month, rebel fighters were forced to withdraw from Al Sheikh Maskin, a small but strategic town in the Daraa province. Regime troops now control the crucial town, which lies on a military supply route from Damascus to the south.
In an interview with CNN in Jordan, Bashar al-Zouabi, a top rebel commander on the southern front, says the Free Syrian Army (FSA) were able to confront regime forces and their Iranian, Lebanese and Afghan militias on the ground. But without the anti-aircraft weapons they have been requesting, they were not able to withstand the Russian air campaign and were forced to withdraw.
"The international community (with its silence) gave Russia the green light to kill the Syrian people as it pleases," says al-Zouabi.
The fighting and bombardment in the south continues and earlier this month, the Free Syrian Army gave up the town of Athman.
"We can only blame the so-called friends of the Syrian people, who are sitting back as spectators and watching us getting killed day and night," says al-Zouabi.
"The Russians are killing in the north and the south. They claimed to have come to Syria to fight ISIS but most of their strikes have targeted the moderate Syrian opposition."
The majority of rebels in Daraa, al-Zouabi says, are moderate opposition forces fighting under the banner of the FSA — and he says they are the ones who have been the main target of Russian airstrikes.
Al-Zouabi says regime troops are moving to try and retake the border with Jordan from the FSA.
Meanwhile, the FSA commander blames inaction from the international community — especially the U.S. He wants weapons he says they've been promised, and safe zones were civilians can take shelter.
In and around the city of Daraa, al-Zouabi describes a civilian population living in a state of fear. Even those who stayed through battles and barrel bombs have now been forced to flee because of the airstrikes that he says "go on day and night."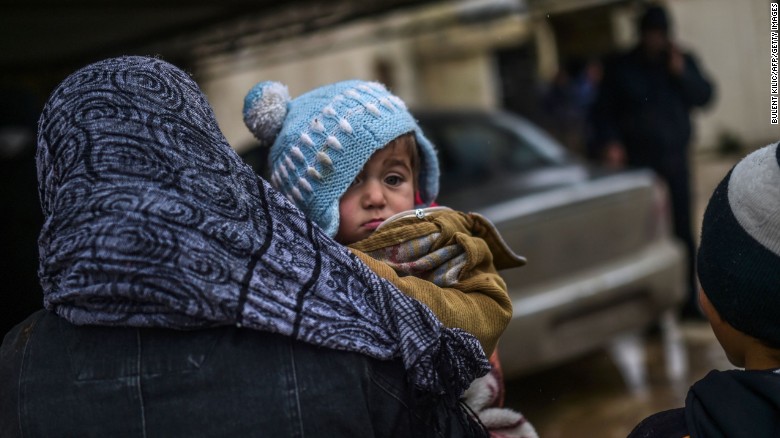 According to local officials, tens of thousands have fled in recent weeks.
Citing security concerns, Jordan is only allowing in 50 to 100 refugees a day. But with 20,000 Syrian refugees massed on Jordan's northeastern border, aid officials say it is unlikely those fleeing the violence in Daraa would head towards the kingdom, instead moving to towns and villages within the province.
However, they warn that unless there is a pause in violence in the south, the situation could quickly change.
Al-Zouabi, too, predicts a humanitarian catastrophe if the Russian air campaign continues unabated.
"We hold western countries, especially the United States, responsible for the humanitarian disaster because only the U.S. can stop the Russians," he says.
He adds: "If the United States does not take an active role and support the people, this will be a tragedy that goes down in history."
As reported by CNN