A most original interpretation of Johann Strauss Jr.'s operetta opened last week at the Israel Opera House for an engagement that will run in Tel Aviv through February 20.
Die Fledermaus's contemporary comedic elements and brilliantly choreographed ballet combined with the timeless musical score render this imported production uniquely entertaining. The audience was engaged from the very first moment, when renowned stand-up comedian Yisrael Katorza walked onstage to play the role of Frosch, the besotted jailer. His rambling monologue was replete with satirical references to Israel's current socio-political situation, evoking familiar laughter.
Katorza, who was advised in this role by fellow comedic artist Moni Moshonov, traveled to Hungary to rehearse with the company. Moreover, at strategic moments in the development of the plot, key members of the Hungarian cast delivered their lines in Hebrew, adding another dimension to the performance that was appreciated by the audience.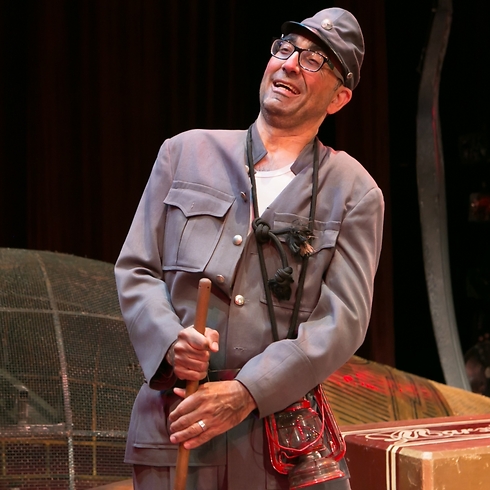 There were other subtle messages that were unspoken: when the revelers at Prince Orlofsky's ball paired off, some of the couples were same-sex. A statue of Sigmund Freud — obviously not a character in the original operetta — came to mute life early on in the performance, and then occasionally meandered around the stage miming taking notes. It was hard to gauge what this was supposed to signify, or even what it added to the show.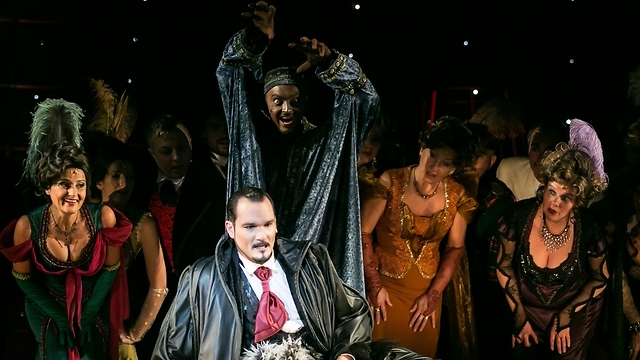 As usual, surtitles translated the German libretto into both Hebrew and English. Helpful as these surtitles are, they were alternately enlightening and maddening. The translator deserves credit for trying to rhyme in both languages; and when it works, it is admirable. Unfortunately, more often than not, the effort fails, resulting in unwelcome distractions — especially when totally made-up words would appear, like manner-hood instead of etiquette. There were also embarrassing misspellings, such as council instead of counsel.
One memorable scene where the spoken word did not need translating was when Eisenstein and Frank, each masquerading as a Frenchman, tried to speak that country's language; the "impressed" reaction of the onlooking crowd amounted to a lampooning of the buffoonish upper classes of Viennese society.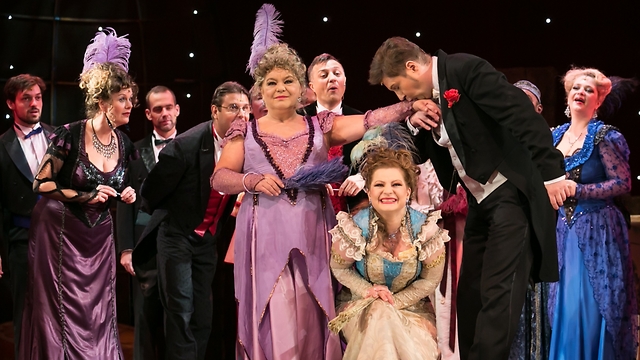 Still, the lilting music of the Waltz King is the reason opera lovers come to see Die Fledermaus, and the Budapest Operetta and Musical Theater did not disappoint. The visiting artists' voices were in fine form, especially those of the sopranos singing the lead roles of Rosalinde and Adele. The biggest crowd-pleaser of the evening, however, was when Orlofsky and Ida integrated vigorous dancing into their duet; indeed, it was also a feat of acrobatics, as were some of the other dance numbers. The name of the company might well be the Budapest Operetta, Musical and Ballet Theater.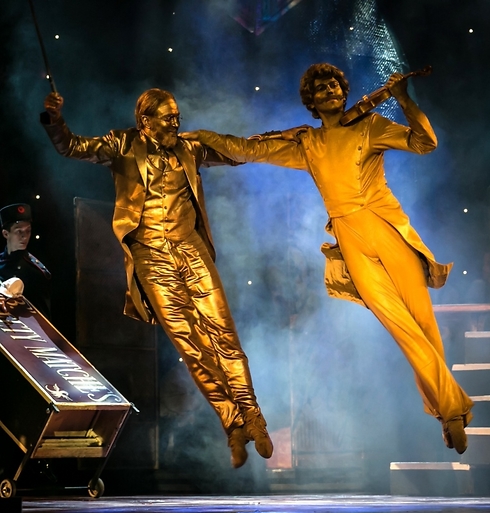 It is clear that this company has made Die Fledermaus a cornerstone of its repertoire; and undoubtedly, it performs this Strauss classic in many foreign countries, incorporating local comic actors as another way to make the operetta's libretto as relevant and timeless as its captivating music. It is equally evident that anyone who enjoys lively opera in the spirit of French farce — with a good bit of entertaining dancing thrown in — will enjoy this Hungarian production of an Austrian mainstay in an Israel much in need of light-hearted diversion.
As reported by Ynetnews